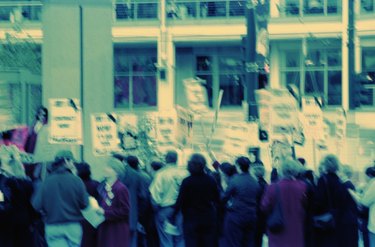 Determinations of eligibility for unemployment benefits hinge on whether an employee was at fault for losing his job. In the case of a strike, states assume you have voluntarily walked off your job in conjunction with your union and, therefore, will usually deny you unemployment benefits. Although that basic premise is the same everywhere, some of the specifics differ because all states enact their own stipulations for unemployment benefits eligibility.
Basics
All states prohibit you from receiving benefits if you are part of a work stoppage. During a strike, states typically make you ineligible to receive benefits until the work stoppage ends or until your unemployment no longer stems from a labor dispute. If you are a member of a union but your class or grade of employee does not actively participate in the strike, you would remain eligible for unemployment benefits in most states if you subsequently lose your job.
Exceptions
Most states leave you eligible to receive unemployment benefits during a labor dispute if the employer has initiated a lockout, although some states do not make this allowance. A few states allow you to be eligible for benefits if you are part of a strike that hinges on your employer's failure to abide by provisions of a collective bargaining agreement, or state and federal labor laws relating to wages, hours, collective bargaining rights and health and safety issues in the workplace.
Considerations
At the end of some strikes, lag time exists before the employer is able to resume operations. In this scenario, according to the U.S. Department of Labor, you might be eligible for unemployment benefits because of a lack of work. But if incidents arising from the strike directly led to the delay — say, if equipment sustained damage during a protest — then your state might rule you ineligible. In another possible scenario, your facility might have to shut down because of disruption in operations arising from a strike perpetrated by your union at a different site within your company. If that happens, you generally can receive unemployment benefits in all states except Idaho, Michigan, North Carolina, Oregon, Texas and Virginia.
Alternatives
Your ineligibility for unemployment benefits because of your participation in a strike does not carry over to all forms of government aid. With limited household income, for example, you could qualify to receive food stamps and Medicaid, and possibly welfare benefits or Supplemental Security Income. Your union might also have a strike compensation fund to provide financial support if the work stoppage lingers. The leadership also should have given you advance notice to start saving more money than you would with steady paychecks coming your way.