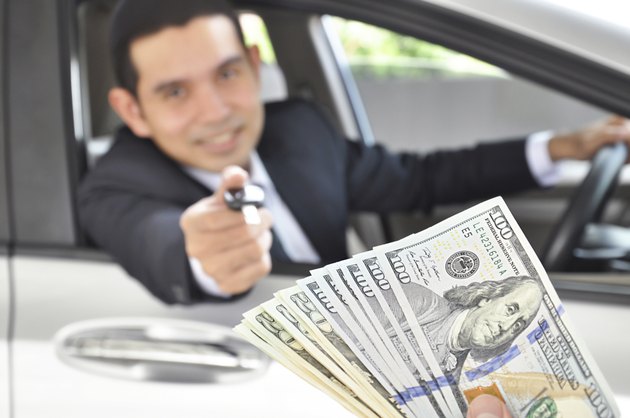 Car title loans let vehicle owners take high-interest, short-term loans using their cars as collateral. The interest rates are significantly higher than traditional bank loans but attract people with poor credit who need fast access to cash. Failure to repay a care title loan can result in repossession, additional fees and damage to your credit score.
How Car Title Loans Work
As with most lenders, you'll typically be asked to fill out a loan application. The loan amount and interest rate you're quoted will be based on the value of your vehicle. Lenders offer about 25 to 50 percent of the vehicle's price, so a car worth $10,000 could qualify you for a $2,500-$5,000 loan. The interest rate will be based, in part, on your credit score. Rates average about 25 percent.
Loan Details
It's vital to get all terms, costs and fees in writing before handing over the title to your vehicle. The Truth in Lending Act requires lenders to give you specific numbers, including the finance charge, the annual percentage rate, and the total of all potential fees and charges, like loan origination fees, processing fees and title charges. Most title loans are short-term, often 30 days, but some may be "rolled over" into a new loan if you can't pay it off in the specified time period. This usually means more fees and interest, or it could mean forfeiture of your vehicle. If you were in a financial bind to begin with, a car title loan could put you even deeper in debt.
What Lenders Want
In addition to the title of your vehicle, lenders will want to see proof of insurance and a photo ID. They may require that you give them a set of keys or install a GPS system to track the car so they can repossess it if necessary. The lender may also insist on installing a device that interrupts your ability to start your car if you don't pay your loan as agreed.
Repossession Clauses
According to the Center for Responsible Lending, title loan companies that list repossession terms in their contracts have the right to repossess your vehicle without court order if you default on your loan. Some states have laws that force lenders that sell repossessed title loan cars to pay the consumer any difference between the sale price and the loan balance. Title loan companies may give you the option of getting your repossessed vehicle returned if you repay your outstanding loan balance, including interest and penalties, within a certain time frame. This option usually comes with numerous costly repo fees.