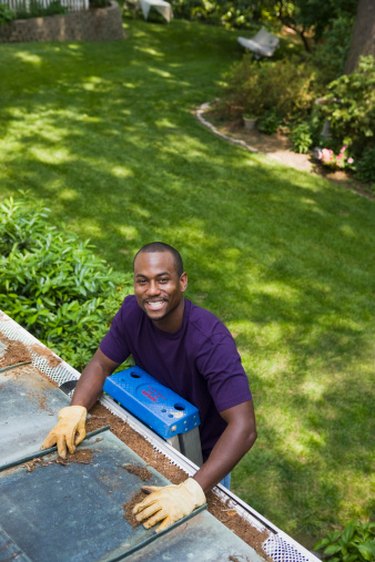 A wide range of items are classified as rental property supplies, which allow you to efficiently manage your investment property, and most are tax-deductible expenses. Rental property supplies can include everything from advertising and marketing products to management software and cleaning supplies. Expenses incurred for rental property supplies are generally reported on your annual tax return using Form 1040, Schedule E.
Advertising and Marketing
Any tools you utilize to attract new tenants to your property are classified as rental property supplies. Advertising and marketing supplies include, but are not limited to: flags, banners, balloons, door tags and signs. Marketing tools, meant to capture the attention of passersby and add visual interest inside and outside the property, can include: rental specials for prospective tenants, welcome signs, information centers, resident-referral bonuses and advertisement of a newly remodeled or refurbished rental property. Advertising and marketing supplies may also consist of tenant-retention items for current and potential renters, like welcome gift baskets, key chains, gift certificates, thank-you cards, pens, coffee mugs and newsletters.
General Management
Renting your property is like running a business, and as such, you should have the appropriate tools and supplies for the smooth management of your business. If your rental property is an apartment, condominium or townhouse complex, common supplies may include rent- and key-collection boxes, fire safes, building number signs and status boards to track management and maintenance tasks. Other necessary supplies may include: outdoor lighting, trash and pet waste receptacles for proper grounds management. Smoke and house alarms and surveillance systems are classified as rental property supplies, and smoke and fire alarms are most likely required by local building codes. You will probably need parking supplies for your property, which can include signs, parking permits and violation slips.
Office Supplies
Office supplies commonly used for the administration of any business are also necessary -- and tax-deductible -- for the management of your rental property. The usual things, like checks, deposit slips, rubber stamps, business cards, letterhead and envelopes, pens, filing system, paper, printer ink, paper clips and the like are all classified as rental property supplies. You will also need some materials that are more specialized to property management. Rental applications, purchase orders, payment receipts, work-order forms and property management software should help you take care of all paperwork necessary to perform property management tasks.
Outdoor Supplies
Depending on what recreational activities are available on the premises of your rental property, the outdoor supplies you need can vary. If you have a pool on the grounds, lounge chairs, umbrellas, tables and other pool accessories are classified as rental property supplies. Most local safety ordinances require some type of security fencing around all pools and Jacuzzis. Outdoor supplies may also include barbecue grills, benches and bike racks.
Other
Additional items that are classified as rental property supplies include: any materials and equipment used for the cleaning, repair and general operation of your property. According to the IRS, Internal Revenue Service, all operating expenses and repair costs incurred to keep your property in safe, working condition without adding value to the property, are tax deductible.