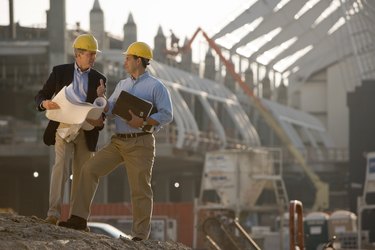 Architects design structures, focusing on cost, safety, appearance and function. Architects earn lower salaries than other professionals such as doctors and lawyers, but most major architectural firms offer a range of fringe benefits to compensate for the lower salaries. Many young architects also consider the profession's creative elements as a substantial benefit. Architects can design towering skyscrapers and other facilities that can survive for their children and grandchildren to appreciate and enjoy.
Health Benefits
According to a 2007 salary survey conducted by Architect Magazine, most employer respondents pay 100 percent of their employees' health insurance premiums. Firms that did not cover all of the costs typically covered 75 percent to 80 percent of health care costs for employees.
Some firms offered fitness subsidies and flexible spending accounts for out-of-pocket medical expenses. Others offered family-friendly benefits such as paternity leave for new fathers.
Vacation and Leave
According to PayScale, new architects averaged 1.3 weeks of vacation time. Architects earned more vacation time with rising experience and seniority. Those with one to four years of experience earned 1.9 weeks of vacation time while those with five to nine years of experience earned 2.3 weeks of vacation. More experienced architects earned up to an average of 2.8 weeks of vacation time per year.
Other Common Benefits
According to a 2008 salary and benefits survey from Architect Magazine, 89 percent of employers offer a 401(k) or IRA plan to workers. Eighty-three percent of firms payed professional association dues for employees. Seventy-seven percent offered dental insurance and reimbursement for continuing education credits. Sixty-eight percent of firms offered long-term disability coverage and 56 percent provided flexible spending plans.
Less Common Benefits
The Architecture Magazine survey reported that 38 percent of private firms offered a profit-sharing plan to architects in the office. Other uncommon benefits include short-term disability (32 percent), vision insurance (30 percent), life insurance (8 percent), and a pension plan (4 percent). Three percent of employers provided health club reimbursements or cell phones to employees.