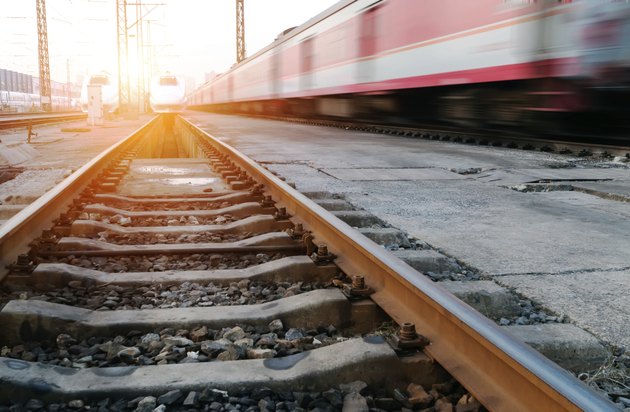 Which railroad companies rank as the top 10 depends upon who made the list and their criteria, so checking more than one list will give you more information for investment decisions. While investing in railroad companies can be profitable, no investment is risk-free. Exercise due diligence before making any investment.
Stock Ranking
Online investment magazine The Street listed eight companies for its 10 Best Railroad Stocks for 2014. Two of the top picks were based in Canada, though all of the stocks trade on U.S. exchanges. The top-rated stocks were Union Pacific Corp. and Canadian Pacific Railway, which both received ratings of A+. Next, with a rating of A, were Canadian National Railway and Genesee & Wyoming. CSX Corp. and Norfolk Southern followed with ratings of A-. Kansas City Southern had a rating of B+, while Providence and Worcester Railroad ranked No. 8 with a rating of C+.
Rail Dividends
Another approach is to pick railroad stocks based on the dividends they offer. When focusing on dividends, look at how the stock has performed over time as well as at its current status. Rankings and dividend reports change frequently. The Online Investor website ranked six railroad companies in June 2014. Genesee & Wyoming stood at the top with the highest dividends followed by Norfolk Southern, CSX Corp., Canadian National Railway, Kansas City Southern, and Providence and Worcester Railroad.
Worldwide Rail Behemoths
Forbes' annual Global 2000 ranks the largest publicly traded companies. This list gives each company's sales, profit, assets and market value. Southern Pacific ranked the highest of the railroads with the greatest market value and profits, even though East Japan Railway had greater sales and assets. Other railroads listed in order of their ranking were Central Japan Railway, Canadian National Railway, CSX Corp., Norfolk Southern, MTR, Daqin Railway, West Japan Railway and Canadian Pacific Railway.
Railroad Stock Performance
Transportation stocks often serve as a barometer for the stock market and overall economy. Cowen & Co.'s equities researchers rated four railroad companies as "Outperform" and raised the price targets for their stocks, the Wall Street Journal's Market Watch reported in June, 2014. "Outperform" means the analysts expect these stocks to exceed the industry average in returns, though ratings can change based on a company's performance as well as industry and economic dynamics. The top four railroad companies beginning with the highest price target were Union Pacific, Canadian Pacific, Norfolk Southern, and Genesee & Wyoming. In addition, one railroad stock, Norfolk Southern, made CNN's May 2014 list of Top 20 Stable Stocks.