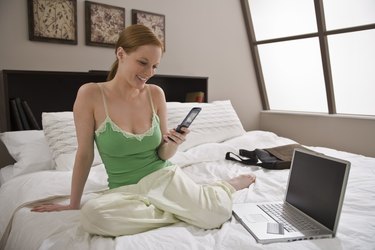 Shopping with a gift card that has a mystery balance can be awkward or embarrassing if you don't have enough money left to cover what you hand to a cashier or check out in an online store. Fortunately, distributors of gift cards give you multiple ways to easily check the balance before you begin shopping or start the checkout process.
Online Option
If you have a smart phone, tablet or computer handy, you're halfway to finding out the balance of that gift card. Turn the card over and look for the website address on the back of the card. You'll need to login using the card's ID number to find the balance. You might need to scratch off a covered claim code on the back of the card, so be prepared to do this before you visit the site. In some cases you must register the card to check its balance. Another option is to visit websites such as GiftCardBalanceNOW!, Gift Card Granny and GiftCards.com, which let you check balances for cards issued by more than 600 different merchants.
Phone Option
Another quick way to check the balance on the card is to find the toll-free number on the back, call that number, and answer the necessary questions to get the balance. The process might be as simple as keying the card's ID number into your phone, or you might have to talk to a live operator.
In-Store Option
If you're at the store that issued the card, visit the checkout counter before you begin shopping to find out how much you have left on the card. You won't have to start a transaction for the cashier or sales clerk to check your balance. Whenever you pay with a card that you're going to use again, ask the cashier to write your remaining balance on the receipt and keep the receipt with the card for easy future reference.
Receipt Option
With some cards, each time you make a purchase, the remaining card balance appears on the receipt. If you have the last receipt from a purchase you made with the card, check it to find the balance. If you use a fast-food card on a regular basis, for example, keep your last receipt in the glove box, ash try or other easily accessible place so you can check your balance each time you hit the drive-thru or enter the restaurant.
Register Your Cards
Whenever possible, register your cards. This lets you void any cards you lose. You can then get a replacement card and avoid having someone else spend your balance. You might also be able to re-load or top off cards to ensure you always have enough money to make purchases you want. Keep your activation receipt to make it easier to deal with a lost or stolen gift card.