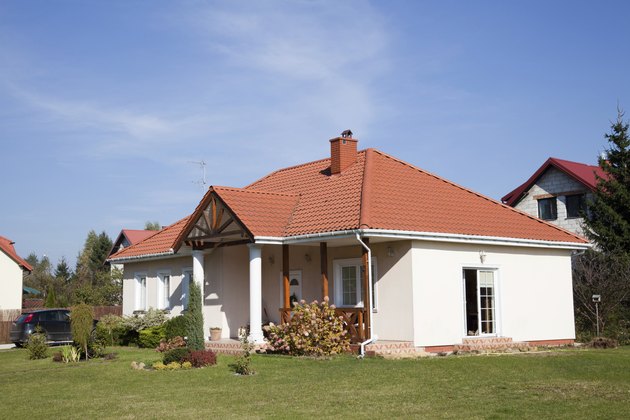 Typically, a single-family home has a great deal of privacy. There are no shared spaces, and no common walls or doors. It's a free standing structure in a neighborhood or community. Multifamily houses are buildings that contain separate residences for two or more families or roommates. They include duplexes, triplexes and apartment buildings with a number of residential units. These properties are viewed differently by investors, insurers and lenders.
Residential Occupancy
A single-family home is usually occupied by the owners of that property and their family members. Multifamily properties are generally purchased for investment purposes. The people living in those houses are often tenants who rent the property from the owner of the building. In some cases, a property owner will live in one of the units in the multifamily property. For example, if you buy a duplex, you may choose to live in one unit while you rent the other one out and collect an income.
Mortgage Considerations
Financing a duplex, triplex or multiunit property is different than obtaining a mortgage for a single-family house you plan to live in. Lenders will be interested in the income potential of the property, and they will want to make sure the collected rent will meet the mortgage obligation. In most cases, commercial financing is required, especially for larger buildings that have five or more units. You'll want to work with a commercial real estate broker or mortgage professional who has experience in multifamily funding.
Insurance Issues
Homeowners insurance will cover a single-family home that the owner occupies. Multifamily properties will require a dwelling policy that covers the structure. The cost depends on the size and value of the property, and any additional coverage that is purchased. For example, an owner of an apartment building near the water might want additional coverage against floods or mold. Many multifamily property owners require or recommend that their tenants purchase renters insurance to protect personal belongings inside the property.
Differing Markets
The housing market is different for each type of property. When the sales market is strong, people are more likely to buy and sell single-family houses. When the demand for rental property is high, investors are likely to purchase as many multifamily units as they can in order to rent them out to a large pool of tenants. If you're wondering which type of property to buy, consider whether you want long-term investment potential or a new place to live.