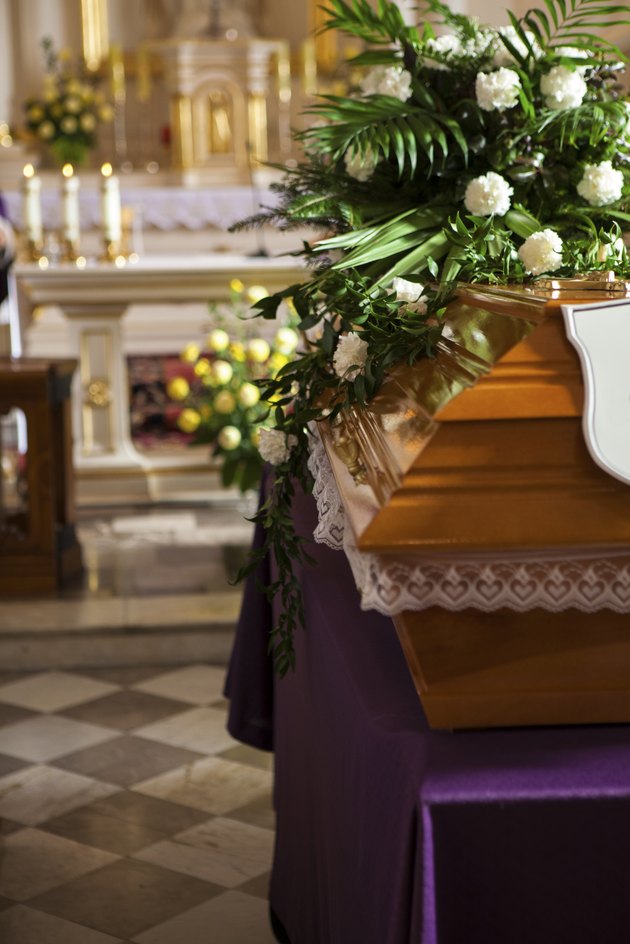 Although it may seem like a medical expense, funeral expenses cannot be deducted on an individual's tax return. Funeral and burial expenses are deductible if paid by an estate. However, most estates aren't large enough to owe tax and can't take advantage of the deduction. Those estates that do owe tax can itemize the deduction on Schedule J of the estate tax return.
Medical Expenses
The IRS specifically states that burial and funeral expenses cannot be deducted as a medical expense and are not deductible on an individual's tax return. All medical expenses up to the point of death -- like hospital stays, nursing homes, medications and copayments -- can be deducted. But, because funeral and burial expenses are not part of treating or mitigating a condition, they don't qualify.
Estate Deduction
While funeral expenses aren't deductible for an individual, they may be deducted on an estate return. As long as the funeral expenses are paid out of a decedent's estate, the estate representative may count the expenses as a deduction to reduce the estate's taxable income. Eligible costs for the deduction include embalming, the cost of a funeral director, the costs of caskets and cremation urns, and any miscellaneous costs associated with the funeral.
When to Use the Deduction
Although funeral expenses are deductible for an estate, there's a strong possibility it won't provide a tax benefit. That's because most estates don't owe any taxes. Currently, an individual estate has a $5.43 million lifetime exemption before it owes tax. If the gross value of the estate doesn't reach that threshold, this potential deduction doesn't come into play.
Claiming the Deduction
For larger estates that must file a return, the estate representative can deduct funeral expenses by completing Schedule J of Form 706, the tax form for estates. All funeral expenses should be itemized individually on line A of Schedule J. Record the expenses net of any reimbursements the estate received from sources, such as death benefits from Social Security or Veterans Affairs.