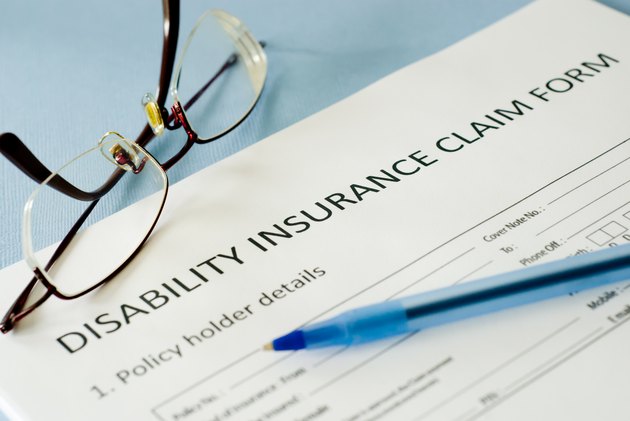 Short-term disability (STD) insurance plans shield individuals from financial hardships due to illnesses and injuries that cause them to miss work for extended periods of time. Often referred to as income-replacement plans, STD policies pay insured employees a percentage of their predisability salaries while they are recovering and unable to work. Benefit amounts from these plans are affected by several factors including taxation and the payment terms of the insurers.
Short-Term Disability Plans
STD and long-term disability (LTD) plans are the two types of disability plans available in the United States. Workers purchase short-term disability coverages from insurance companies or through their employers if the employers sponsor group plans. Benefit periods for STD plans vary; insured employees can receive payments for several weeks up to a maximum of two years depending on the insurance companies. Many illnesses and injuries are covered under these plans with the most common causes of disability claims being back problems and heart disease.
Features and Options
Short-term disability insurance come with several features and options that make the coverages more flexible for owners. These plans can be set up to pay benefits if the workers suffer disabilities that prevent them from doing their regular jobs or any other occupations. Individuals can also purchase STD policies that cannot be canceled for any reason except failure to make premium payments or plans where insurers cannot raise premiums unless they are increased for everyone with the same classification ratings.
Benefit Amounts
STD benefit payments vary from insurer to insurer. MetLife, for example, typically covers 60 to 70 percent of the insured worker's earnings. However, according to the website DisabilityBenefits101, most short-term plans cover between 40 to 70 percent. Some STD plans cover as much as 80 percent but none will replace 100 percent of a worker's paycheck. This is done to encourage workers to return to their jobs as quickly as possible.
Taxation of Benefits
Another factor that affects STD benefit amounts is that the IRS can tax payments received by the insured workers. Payments are subject to taxation based on how the plans' insurance premiums are paid. For example, STD coverages funded with pretax dollars, such as group-sponsored plans, pay benefits that must be reported on the individual's tax form as income. Short-term disability coverages funded with after-tax dollars, such as privately owned plans, pay tax-free benefits.