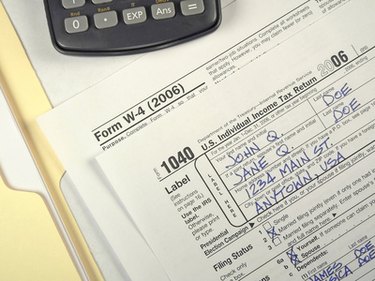 After filing your federal taxes, you breath a huge sigh of relief and file away your copy of your tax return. At some point you may decide to do some major housekeeping of tax forms and documentation, but take care: you may need to keep your records around for several more years before sending them off to the shredder.
Keeping Records
Tax records must be kept on hand should the IRS audit your return. If the IRS audits your taxes, you will need copies of the returns for the years being audited and supporting documentation. Without that information, you will not be able to explain to the IRS certain deductions taken and may find yourself paying additional taxes, interest payments and paying penalties.
Period of Limitations
The IRS assigns a period of limitations for various tax forms and supporting documents. That period comprises the time when you can amend your return, claim a refund or tax or when the IRS can charge you with an additional tax. For example, if you file a claim for credit or refund after you file your return, keep those records for three years from the date you filed your original return. Or, hold on to them for two years from the date you paid the tax, whichever is later. If you have not amended your return, then keep your tax records for three years, but for six years if you underreported your gross income by 25 percent or less.
Other Limitations
If you filed a loss for bad debt reduction or for worthless securities, then you should keep your records for seven years. Employment tax records should be kept for four years after the tax is paid or due. Keeping records in place in a kitchen drawer or filing cabinet and telling other family members about your system is important, advises Debra Pankow of North Dakota State University.
Indefinite Records
You will need to keep your tax records indefinitely if you have fraudulently filed a tax return or have missed filing tax returns. Some tax professionals urge taxpayers to keep related IRS, home improvement and related documentation permanently to help lower their capital gains when they eventually sell their home.
Other Records
The IRS advises taxpayers to maintain records pertaining to property "...until the period of limitations expires for the year in which you dispose of the property in a taxable disposition." These records will help you calculate any depreciation, amortization or depletion deduction. Furthermore, these records will help you calculate the gain or loss when you sell your property. Even if the IRS does not require you to keep certain records past a specific date, keep records of interest to creditors or to insurance companies longer.