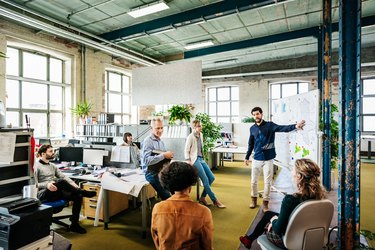 Do you have a creative mind, good strategic thinking skills and an eye for analyzing data? If so, then a career in marketing might be a good fit for your talents. This is a varied role that potentially covers everything from market research and media planning to organizing promotional events and managing the company's social media accounts. Whether you're focused on product development or public relations work, it certainly never gets boring.
Tip
The typical salary for an entry-level marketing assistant is somewhere in the region of $34,000.
Job Description
As an entry-level marketing assistant, you are responsible for supporting the marketing team on the ground. Typically, the marketing assistant job description includes carrying out market research, planning events and campaigns, media buying, analyzing the success of campaigns against various metrics, preparing reports and generally supporting the team in day-to-day business.
Depending on the company and the industry, you could be writing blog posts and social media updates, assisting with point-of-sale displays and using Customer Relationship Management software to create reports and predictions. The job is likely to be varied with no two days the same.
Education Requirements
While technically there's no education requirement beyond a high school diploma, many employers will require at least a bachelor's degree. Good choices of major include marketing, business administration, communication or the social sciences, and courses in statistics and consumer behavior are helpful.
There's no universal certification for marketing professionals. However, the voluntary Professional Certified Marketer credential, offered by the American Marketing Association, is widely considered to be the gold standard for the profession. You won't be expected to hold a PCM in order to take up an entry-level position, but gaining the certification could enhance your career prospects later on.
Marketing Assistant Salary
The Bureau of Labor Statistics does not collect data on marketing assistants specifically; however, they do report that marketing specialists can expect to earn an annual median salary of $63,230 as of May 2017.
What this means is if you lined up all the marketing professionals in the country from the highest to the lowest paid, the person in the middle would earn this amount. Junior assistants can expect to earn below the median. The bottom 10 percent of marketing professionals earn $34,510 a year according to BLS, which is a more realistic salary for an entry-level assistant.
Industry
Marketing is a truly universal job and marketing professionals work in all sorts of industries from retail and banking to public sector bodies and nonprofits. Since marketing assistant is an entry-level role, no experience is required, although some employers will require experience of working in an office. Some employers ask for one or two years' experience in marketing.
Years of Experience
The earning potential of a marketing assistant depends on a plethora of factors such as the geographic location, size of the employer and the industry you work in. Typically though, you can expect to start on a below-average salary and ramp up the money as you gain experience in the job. One marketing associate salary range might look like this:
Entry-level: $34,000
Five to 10 years of experience: $38,000
10 to 20 years of experience: $40,000
Job Growth Trend
While the BLS does not keep data specifically for marketing assistants, the demand for marketing professionals generally is growing at a much faster rate than average. Overall, there should be more than 138,000 more jobs in the field by 2026, which represents a rise of 23 percent. People with skills in data analytics are likely to be in great demand as the industry is increasingly using "big data" to understand the needs of customers and measure the impact of marketing campaigns.