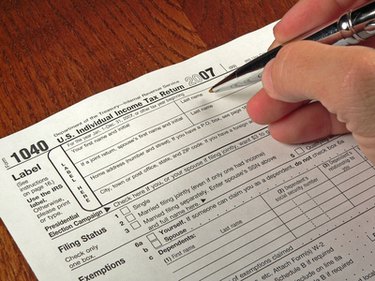 Filing taxes can be confusing and complicated, and one of the most difficult parts of the process is knowing which form to use. The 1040 form is designed for taxpayers who are unable to file the simpler 1040-EZ and 1040-A forms.
Individual Tax Return
The 1040 is the tax form individuals use to report their income to the IRS. When tax season approaches, taxpayers gather all of their documentation, including W-2 wage statements and 1099 forms showing interest and dividends and any additional sources of revenue. After adding up all the income information, taxpayers calculate their deductions and exemptions to arrive at their total taxable income. That taxable income is used to determine the amount of the refund, or the amount of tax still owed.
Small Businesses
Self-employed individuals and small-business owners often report their incomes on the 1040 form as well. The amount of self-employment or business income is added to any wages, interest and other income, and the tax is computed based on that information. Small-business owners and self-employed individuals who report their income on the 1040 also need to complete and attach Schedule C. Schedule C is used to detail business and self-employment income and any business-related deductions. The income reported on your Schedule C is passed through to the 1040 and added to any other taxable income you have, including W-2 wages, interest, dividends and capital gains. If you do have wages from self-employment or a small business, it is a good idea to consult a tax professional who can help you maximize any deductions you are entitled to and minimize your self-employment and ordinary income taxes.
Simpler Options
The 1040 is known as the long form, and it is a rather complicated document. Taxpayers with simpler returns and limited sources of income might be able to file using simpler alternatives. The 1040-EZ is the simplest of all tax forms, at just one page. Taxpayers who have only wage income, a limited amount of interest income and unemployment compensation can file this simple form. Taxpayers whose returns are too complicated for the 1040-EZ might be able to save time by filing the 1040-A instead of the longer 1040 form.
Sections
The 1040 form consists of 10 sections and 77 lines. The top of the 1040 form lists the taxpayer's name and address, along with his Social Security number. Other sections provide the taxpayer's filing status, income, exemptions and deductions. The income section lists several different sources of income, including wages, interest and dividends. The 1040 form also includes detailed instructions for taxpayers to use to complete the form properly. You can also report certain deductions and credits directly on the 1040 form, including credits for retirement plans, health savings accounts and tuition expenses.