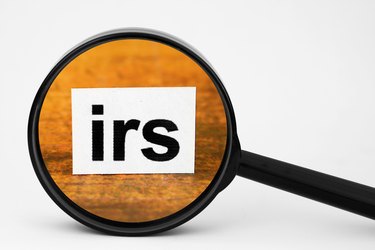 The Federal Unemployment Tax Act, along with state unemployment systems, provides benefits to eligible unemployed workers. FUTA is an employer-paid tax, meaning it is not withheld from employees' wages. Employers pay the tax on a specific amount of wages paid to each employee for the year. These wages represent the annual taxable wage base.
Excluded Payments
All types of wages are subject to federal unemployment tax, unless an exemption applies. Exempt wages include fringe benefits such as meals, lodging, payments made to employee health or accident plans, qualified moving expense reimbursements and most benefits covered under a cafeteria or Section 125 plan. Contributions made to retirement and dependent care plans, plus some payments made to group life insurance plans, are exempt. Other exemptions include payments for specific fishing activities and services performed by certain family members.
Tax Rate
The Internal Revenue Service, which administrates FUTA tax, publishes the yearly rate in its annual Circular E, Employer's Tax Guide. As of the date of publication, the rate is 6 percent, but employers can take a maximum credit of 5.4 percent against that amount if they meet certain conditions. This maximum credit reduces the FUTA rate to 0.6 percent. To take the maximum credit, the employer must have paid its state unemployment tax as required and on wages that are also subject to FUTA tax. The employer must not be doing business in a credit reduction state, which is a state that borrowed from the federal government to pay its state unemployment liabilities and has failed to repay the debt.
Taxable Wage Base
Employers as of the publication date pay federal unemployment tax on the first taxable $7,000 paid to each worker. The most an employer would owe for each employee is $420, which is $7,000 multiplied by 6 percent. If the maximum credit of 5.4 percent applies, the employer pays $42 per employee.
Determining FUTA Credit
If certain employees are excluded from state unemployment tax, such as corporate officers who own 25 percent or more of the company, their wages are not included in the FUTA credit. Ultimately, the credit is based on how many employees must pay or are excluded from FUTA tax and their earnings. The employer uses IRS Form 940 to determine whether it qualifies for the credit. It also reports its annual FUTA liabilities on the form.
Employers Required to Pay the Tax
Employers can use the tests stated in IRS Circular E to determine whether have a federal unemployment tax obligation. As of the publication date, employers that do not have household or farm workers must pay FUTA tax if they paid wages of $1,500 or more in any quarter of 2014 or 2015 or had a minimum of one employee who worked at least a portion of a day in each of 20 or more different weeks.