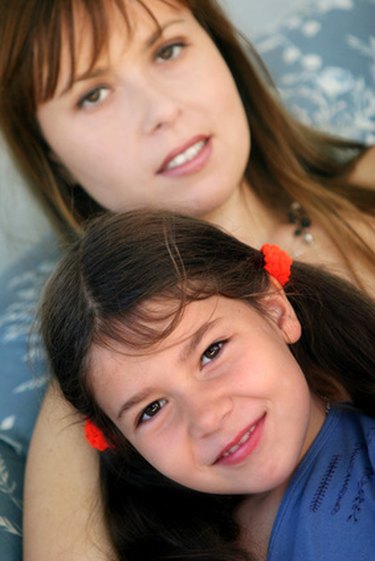 Being a single mother in the U.S. today can be fraught with hardships. Left alone to cater to all the needs of her children, a woman can feel overwhelmed and out of options. Thankfully, there are various places where single mothers can go to in times of need to find the resources and financial assistance that they and their families need to survive. Getting your family's basic needs taken care of will allow you to rest easier and enjoy your life more.
Food
Publicly and privately funded financial assistance programs in the U.S. help single mothers afford food for themselves and their children. The U.S. Department of Agriculture sponsors the national Food Stamp Program and the Program for Women, Infants and Children, or WIC, which provides grant assistance for food supplements, healthcare assistance and nutritional education. The USDA's National School Lunch Program offers free and reduced-price lunches to children up to age 18; as of 2010, the program was operating in 101,000 public and private non-profit schools. Private hardship grant programs for food supplements include America's Second Harvest, a program through Tyson Foods, and the non-denominational Angel Food Ministries, which offers heavy discounts on fresh, frozen and packaged foods from national distributors.
Basic Needs
Single mothers have a list of basic needs outside of food when experiencing hardship. Modest Needs is an American non-profit dedicated to offering grant-funded financial assistance to individuals, families or small non-profit organizations to keep families out of poverty and increase the quality of life of those families near the poverty level. Single mothers facing a pregnancy that presents a hardship can benefit from resources available through pregnancy advocates at The Nurturing Network, an international charitable organization. The U.S. Department of Health and Human Services' Child Care and Development Fund, or CCDF, offers funding for child care services and health care. Public funding for heating is also available on a state-by-state basis through the Low Income Home Energy Assistance Program.
Education
Earning a higher education is a great way to increase the family's income and get yourself out of hardship, but college tuition prices often make that seem out of reach. Private grant funding for college can be obtained from Raise the Nation or the Sunshine Lady Foundation; individual collegiate institutions often offer hardship grants to single mothers who want to finish their schooling. The Survivors and Dependents Educational Assistance program, available through the U.S. Department of Veterans Affairs GI Bill, also awards educational grant funding to wives of veterans who died in action or are currently missing in action.
Religious
Many religious organizations offer programs that are designed to help local needy individuals and families no matter their situation. If you don't currently belong to a church, many congregations are open to newcomers and will be forthcoming about local programs. Among international religious programs that are dedicated toward helping needy families are the Salvation Army and Catholic Charities. Both of these organizations have regional and local offices across the country.