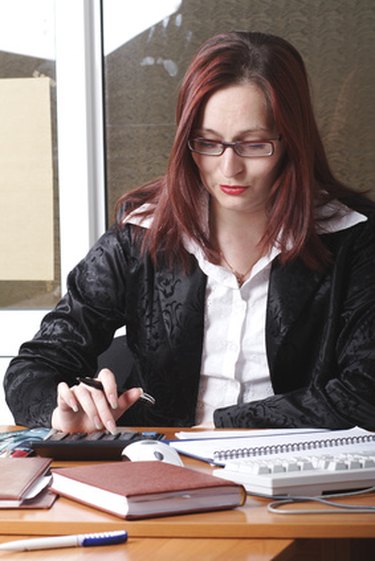 No one wants to hear the phrase "IRS audit" in connection with his tax return. In fact, the Internal Revenue Service now refers to audits of personal returns as "examinations," perhaps to minimize the stigma associated with the term "audit." IRS examinations of personal returns may be done entirely by mail, or the IRS may schedule a personal interview at your home or an IRS office.
Why Might the IRS Audit a Personal Return?
The IRS audits personal returns for a variety of reasons. The Discriminant Inventory Function System, a computer program, assigns a score to processed business and personal returns. A high DIRF score correlates with a high chance of an examination resulting in a change to your tax liability.
A mismatch between the information reported directly to the IRS and the information reported on your return also might trigger an examination. An audit could occur if your return involves questionable treatment of a tax item, or if the IRS identifies you as part of a demographic they wish to research. Finally, in some cases information from an outside source, such as a public record or individual, might cause the IRS to begin an examination of your return. The time limits for the IRS to begin an audit depend on when you filed your return and how accurate it was.
Returns Filed Accurately and On Time
If you filed your personal tax return on time, and if your return was accurate, the IRS has three years from the due date to initiate an audit. The due date of a personal return is generally April 15 of the following year, unless that date falls on a weekend or holiday. If you filed your return with an extension, the three-year time limit begins on the filing date.
Innacurate Returns
If you fail to report all of your income on your return, and if the unreported amount is equal to 25 percent or more of the gross income you did report, the time limit for an audit is extended. In these situations, the IRS has six years from the due date to begin an examination. Again, if you filed on an extension, the six-year time period starts on the date you filed your return.
Fraudulent or Unfiled Returns
If you file a fraudulent tax return, the IRS can initiate an audit at any time, with no limitations. Similarly, if you fail to file your tax return, there is no time limit on an examination. Failure-to-file and failure-to-pay penalties, based on the full amount of tax due, accumulate on a monthly basis from the due date of your return.