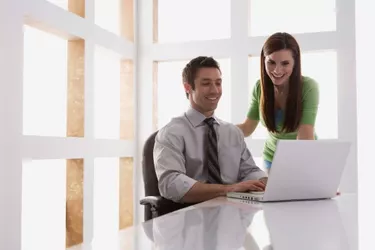 One of the most common applications for a payment coupon booklet is for a borrower to submit payments on a loan. You might also provide members of an organization with coupon booklets to submit dues payments. You can pay a professional printing company to create these booklets or create them on your own using software programs. After designing the coupons, print as many sheets as you need and cut out each one to combine it into a booklet.
Step 1
Create payment coupon booklets using a template from Microsoft Word. Visit the office template section of the Microsoft website and click the option for "Coupons." You can then download the template and enter information that you want to appear on each coupon, including the date, amount due, coupon number, your company name, and the payer's name. You may have to delete certain elements of the template to make each coupon look just right.
Step 2
Design the payment coupon book with Adobe InDesign. InDesign is a layout program that is ideal for this type of project, because you can create boxes, lines, and text boxes fairly quickly using guidelines and grids ("snap to grid"). Create a standard 8 1/2-by-11-inch document and separate it into three rectangular boxes to create your coupons. After establishing the boxes, add your information in text boxes then generate additional pages as required before printing.
Step 3
Make custom coupon books using American Greetings' online tool. You have to create an account with the service to launch and use the "member create and print" tool from your browser. Choose the option to create special coupons, delete the existing information and enter the applicable payment information instead. View the design before you print and generate as many coupons as you need to make the booklet.