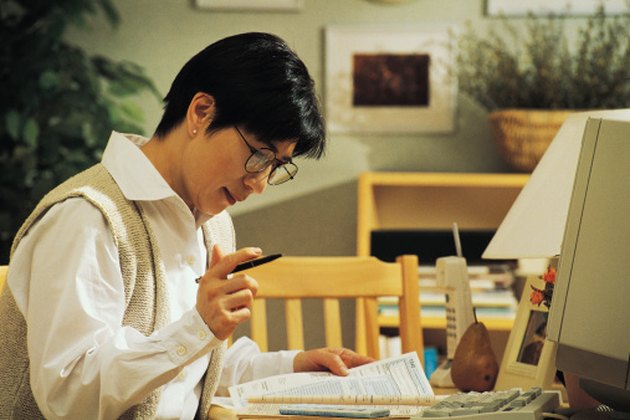 Shareholder basis in an S corporation has several important tax effects. Profit or loss of an S corporation is applied to personal tax returns of shareholders. However, a shareholder must have basis to deduct an S corporation loss. Distributions to shareholders from S corporations are not taxable. Only profit is taxable, whether it's distributed or not. But a distribution is taxed if it exceeds the shareholder's basis. A shareholder has a stock basis and a debt basis. The initial stock basis is the amount of equity capital supplied by the shareholder. The initial debt basis is the amount of money loaned by the shareholder to the S corporation. Form K-1 is received annually, reporting all components affecting shareholder basis.
Stock Basis
Step 1
Record your beginning stock basis.
Step 2
Add your share of every type of taxable income and non-taxable income. Also add your increases in capital contributions.
Step 3
Subtract any distributions of cash or property you received. Also subtract any repayment of capital you received.
Step 4
Subtract your share of the S corporation's non-deductible expenses.
Step 5
Reduce basis by your share of deductible expenses that are passed through to shareholders. These items affect shareholders directly rather than applying to S corporation income.
Step 6
Apply to the debt basis any amount that reduces stock basis below zero.
Debt Basis
Step 1
List your beginning amount personally loaned to the S corporation.
Step 2
Subtract any loan repayment received from the S corporation.
Step 3
Add any new amounts loaned to the S corporation.
Step 4
Apply any negative amount of stock basis. Do not reduce shareholder basis below zero.
Tip
Tip 1: Any negative that exceeds both stock and debt basis is carried forward. However, non-deductible expenses that exceed shareholder basis are not carried forward. Other types of losses that exceed basis retain their tax characteristics when carried forward.
Tip 2: Shareholders are responsible for tracking their stock and debt basis. These measures are not required of S corporations.
Things You'll Need
Initial stock basis

Initial debt basis

Form K-1 issued by the S corporation