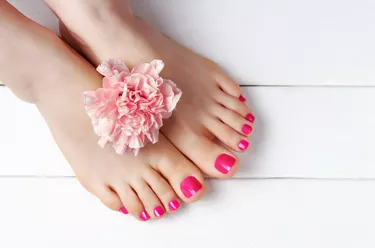 Top modeling agencies are often seeking men and women for TV commercials, product ads and other promotional materials. The best part is, you don't have to be tall or slim to land a high-paying gig. There is a growing demand for models with beautiful hands and feet, striking eyes or shapely legs. Hand models, for instance, may advertise products and services in the health, beauty or fashion industry.
Tip
The best way to become a hand and foot model is to build a strong portfolio and put yourself out there. Book a professional photo shoot, share your pictures on social media and reach out to modeling agencies or potential clients, such as skincare companies and spas.
Hand and Foot Modeling Requirements
Cosmetic manufacturers, spas, jewelry stores and beauty salons hire body parts models to market their products. Skincare companies may use hand models to advertise a new soap or hand cream. Beauty salons may employ foot models to promote pedicure services. Jewelry ads usually focus on the model's neck, hands or ears. This practice is called parts modeling and can be a great way to make a living.
Most fashion models have a slender figure, with a tiny waist and long legs. You, too, can be a top model even if you don't fit these standards. Parts models make just as much as catwalk models, charging up to ​$500​ per day for editorial photo shoots and ​$250​ to ​$2,500​ per day for adverts, reports Vogue. Plus, they get to work with top modeling agencies and brands.
Manhattan-based agent Dani Korwin told Vogue that parts models have specific traits that allow them to be successful. Generally, they move gracefully and feel comfortable in front of the camera. You must also have flawless hands and limbs, regardless of your height or weight. Parts models know how to express themselves without saying a word, which requires mastering body language. Think about Zara Miller, Scott Adams, Beverley Brown and other famous foot models.
Hand and feet modeling requirements depend on the job. Most agencies seek individuals without scars, blemishes or other marks on their limbs. Foot models, for example, tend to have long, thin toes and high arches. Hand models typically have delicate wrists, long, straight fingers and well-groomed nails.
Nina Taylor, a professional hand model, told Insider that most campaigns require cutting your nails short. Moreover, you need to be able to get into awkward positions, hold still and move your hands in a controlled manner. Taking good care of your hands and nails is a must.
Modeling is one of the few professions that doesn't require formal education. Adriana Lima, Kate Moss, Gisele Bündchen and other supermodels were discovered while eating out or crossing the street. Others applied directly to modeling agencies. There's also the option to attend a modeling school, notes the Bureau of Labor Statistics. While this won't necessarily increase your chances of finding work, it can be a good way to build connections.
For starters, book a professional photoshoot and then reach out to top modeling agencies. For example, Body Parts Models has more than 250 clients across various industries. The agency is actively seeking men and women with beautiful hands or feet, flawless skin, gorgeous eyes or unusual body parts, such as extremely long eyelashes. Another option is to contact traditional modeling agencies and let them know about your services.
Note that you don't necessarily need to get signed to an agency to find work. Many models are self-employed, which allows them to skip the middleman. Most times, they market their services on social media and search for job opportunities online. Working with a modeling agency can make things easier, but you'll also have to pay a commission of 20 percent or more, according to Women's Wear Daily.
What matters most in this industry is to have a strong portfolio. Hire the best photographers you can afford, put yourself out there and reach out to prospective clients. Join local Facebook groups for job seekers and focus on building your online presence. Leverage the power of Instagram, TikTok and other social networks to gain exposure and connect with the right people.