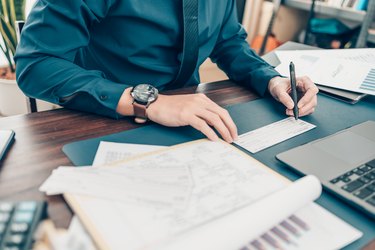 Many reasons exist why a person might need to appoint a power of attorney, and every power of attorney agreement differs. Some give adult children the power of signing checks for elderly parents, while others are used for business purposes. Knowing how to sign a check as POA is a critical skill, as that is often one of the chief duties of a power of attorney.
How to Write a Check as POA
You need to confirm that your power of attorney agreement awards you the ability to write checks on behalf of your elderly parent or other entity, called the principal. You must make sure to read all clauses of the agreement, as the agreement may limit your financial rights to specific situations, accounts or transactions. That way, you know that writing and signing the check are entirely within your legal rights.
If check-writing is not included in the agreement, you will need to contact the attorney who drew up the contract to add an addendum. In the meantime, you may need to insist that the person or persons who gave you power of attorney keep signing their checks.
Every financial institution, credit union or bank will have its own rules about POA check writing. You'll need to contact the bank to learn about them. Typically, you'll need to sign the principal's name, indicate that it is a POA check by writing "Power of Attorney" in the notes section and include your name underneath that of the principal.
Establishing a POA Checking Account
Most banks have helpful FAQ pages, such as the one provided by the experts at Bank of America, that answer many common questions about power of attorney, but you should call them or visit a branch in person if you're unsure. You may also want to consider opening a POA checking account. These are very similar to joint checking accounts, and in some financial institutions, they're the same. Especially in situations where a power of attorney will act long-term, it is easier for all parties to set up a POA checking account.
These types of accounts can allow the principal to maintain access to some of their finances without the worry of remembering to pay bills on time. For example, the POA may be responsible for depositing the principal's retirement or Social Security checks into the account and paying the mortgage. However, the principal would still be able to write their own checks for their grandchildren on their birthdays.
Check endorsement might be another critical responsibility you take on as power of attorney, especially if your elderly parent receives Social Security checks in the mail. According to the writers at Attorney Docs, like in any other case as a power of attorney, the first thing you will need to do is review your agreement and make sure you have the right to endorse checks per the written contract. Once you've established your rights, you can sign the name of your principal, but it's more accurate to sign their name and your own and then indicate that you're acting as power of attorney.
As an example, if Winnie the Pooh awarded power of attorney to Christopher Robin, Christopher Robin may be able to endorse the check by signing only "Winnie the Pooh." However, in many cases, it would be better for him to sign "Winnie the Pooh" and then sign "Christopher Robin" underneath it, adding the phrase "under POA." Alternatively, he could sign "Christopher Robin, attorney-in-fact for Winnie the Pooh." While either of these will likely work, the contract may specifically outline the specific type of signature you should use; always check the written agreement before deciding on your method.