Brinks has become a known name in home security, but at one time, the company manufactured fire safes. Since many consumers buy a safe and keep it for years, you may still have a Brinks safe in your home. If you've lost the key to your Brinks home security safe, you will have to call a locksmith or find a way to get into the safe without it.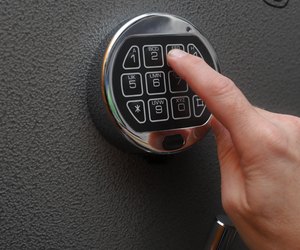 credit: C5Media/iStock/GettyImages
Brinks Safe Key Replacement
At one time, a company called First Alert offered key replacement services to Brinks customers. This was the perfect interim solution, but it's unfortunately no longer an option. According to the company's Notarized Statement of Ownership, the company cannot guarantee keys, combinations or override passcodes will be provided for older safes. The form specifically states that Brinks safe keys are not available.
If you're in doubt about whether your older safe is a Brinks model, though, it might be worth getting in touch with First Alert to see if they can help you. Their number is 1-800-323-9005.
Using a Locksmith
As you probably already know, when all else fails, the last resort for opening a locked item like a Brinks home security box is to get in touch with a locksmith. This is a last resort because it's costly. The average locksmith will cost you between $96 and $210. If you can't break into the safe, though – or you don't want to – it may be the only choice.
If you want a Brinks safe key replacement and not just someone who can break into your safe, search for a Brinks-certified locksmith in your area. Since Brinks no longer makes safes, this may be something you have to call and ask each person you're considering using. Prepare to provide proof that you live in the residence where the safe is located.
Open a Fire Safe
If you can't get a Brinks safe key replacement, your only choice may be to break the lock. There are a variety of ways to do this, starting with inserting the pointed tip into the keyhole and jiggling it until the lock pops. The tip of a screwdriver can also help you break in, but you'll need to turn it counterclockwise until the door opens.
Another way to get into a safe like a Brinks home security box is to use a neodymium magnet and a large gym sock. Put the magnet in the sock, then move the sock around the door until you find the solenoid, which is the internal mechanism that activates the lock. The sock simply makes it easier to move the magnet around and find the solenoid.
The easiest way to get into a safe like a Brinks home security box is with a drill. Obviously, this will damage the lock, so you may want to use it after you've tried other methods. Simply make a hole in an area of the door where you can glimpse the other side of the lock. Once the hole is big enough to squeeze your finger inside, you can unlock the lock that way.
Open a Digital Safe
If your Brinks home security safe is digital, it may be a bit more difficult to get in. A hammer and chisel will work perfectly in this case. Find the area where the code is and put the chisel in the corner. Then hit the chisel with the hammer until you dislodge the outer part, revealing the knobs and screws inside.
Once you have your Brinks home security safe keypad removed, you'll see a silver knob. You need to remove that knob, allowing you to access the inside of the lock through a hole. Reach in and press down on the button on the lower side.