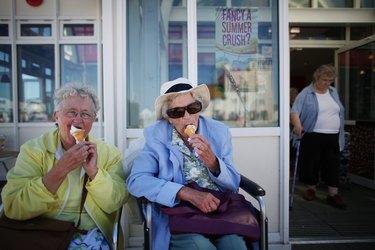 The Social Security Administration estimates that a retiree needs about 70 percent of preretirement income for retirement. Social Security retirement provides about 40 percent of that income, leaving the retiree to find a match to the Social Security income. CNN Money reported in 2005 that 70 percent was not realistic and that some retirees would need more than 70 percent of preretirement income. The Department of Labor suggests 70 to 90 percent of preretirement income. The average cost of retirement depends on retirement preparation, preretirement lifestyle and expectations.
Calculations
If your preretirement income is $70,000 and you need 70 percent of that figure for retirement following Social Security estimates, you will need $49,000 a year. If Social Security provides $2,000 a month for retirement income, the total will be $24,000 a year. You will need $25,000 a year from other sources to maintain your lifestyle. These funds can come from part-time work, a pension plan, investments and interest on savings.
Variables
Your style of living and preparation for retirement will have an impact on your needs and expenses in retirement. Recommendations include paying off your mortgage and any credit cards or similar indebtedness. Purchase a vehicle and pay it off prior to retirement. With no indebtedness, your expenses are limited to your present needs.
Assets can positively affect your retirement if you have items for which there is a market. Selling purchases made during your lifetime may be beneficial to you and your heirs. You can use the money, and your heirs don't have to get rid of your items upon your death.
Misconceptions
Adjustments for inflation may not be as necessary as reports show, since Social Security benefits increase with the Cost of Living Adjustment in years that the consumer price index shows inflation. If your money is in interest-bearing accounts, the interest rate will also adjust for inflation.
Health care may be the big hurdle for seniors, with costs increasing for Medicare, copayments and prescription drugs. Many retirees do not anticipate increased health care costs.
Actions
Learn to live on less. AARP suggests downsizing your home, and Top Retirements recommends relocation to a less expensive area. You can also delay your retirement a few years, or work during retirement. Men live to about age 79 and the life expectancy of a woman is age 83, so the average cost of retirement relates to life expectancy as well.
Time Frame
A high-paying job over a long period of time increases Social Security benefits at retirement age. Creating several sources of retirement income provides more income and additional security for retirement. Saving with a 401k, IRA or 403b allows money to grow faster than a private savings account, but there is no substitute for starting early. Retirement takes a lifetime of planning and preparation. Those who make the best plans will have the most success in retirement.