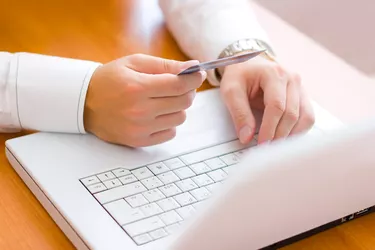 Bank of America offers account holders the option of getting a free debit card when they open personal or business checking and credit card accounts. If you didn't ask for a customized card then, you only got a debit or credit card that bears the Bank of America logo. The bank provides two convenient ways to change your existing debit card design.
The custom debit card designs that you can choose from depend on the type of account you have. Bank of America doesn't offer this choice for every type of personal checking account. However, you can review the current design possibilities by downloading the bank's latest Affinity Banking Program offers.
Popular designs let you support your favorite charity, sports teams or your favorite season. You'll find most major league baseball and football teams designs. You can also choose charities, such as Susan G. Komen, the World Wildlife Foundation and the International Honor Society. Get a card that displays your professional affiliations, including medical, legal and even Amway or the American Quarter Horse Association. Service members, veterans and supporters can adorn their cards with emblems for any of our military branches. Current options also include many colleges and universities, along with alumni associations.
Bank of America Custom Card Fees
Generally, Bank of America charges a ​$5​ fee to replace an existing ATM card. However, you can avoid paying this fee if you wait until your card is close to its expiration date. There is no charge for replacing a card that is about to expire. Inquire about changing to one of the customized Bank of America debit card designs at least a month before your current card's expiration date. The bank automatically creates a new card to replace the one that's expiring, so you'll want to order your custom card before they ship a replacement for your expiring card.
Call Bank of America Toll-Free
If you're just too busy to visit the branch, call Bank of America Affinity Banking toll-free at 800-432-1000. The bank staffs this line from 8 a.m. to 11 p.m. Eastern time on weekdays. Weekend hours are 8 a.m. to 8 p.m. Account holders who are not currently in the U.S. can call 315-724-4022 collect.
The customer service agents can tell you whether the account that you have with Bank of America is eligible for a custom Affinity Banking debit card. If your account is eligible for a Bank of America custom card, an agent will help you select a new design and process your request.
Make A Personal Banker Appointment
Bank of America has personal bankers at almost every branch. You can visit any branch that's convenient for you. However, you should schedule an appointment first. Although you can see a personal banker by walking into a branch, wait times can be unpredictable. If you are enrolled in online banking or use the Bank of America mobile app, log in to your account. Then use the "Help" menu to find the appointment scheduling link.
When you change your card design at a branch, the personal banking representative will tell you if your account is eligible for a custom card. They can help you switch to an eligible account too, if necessary. Then they will show you all the available Bank of America debit card designs, review any fees and schedule the delivery of your new card.