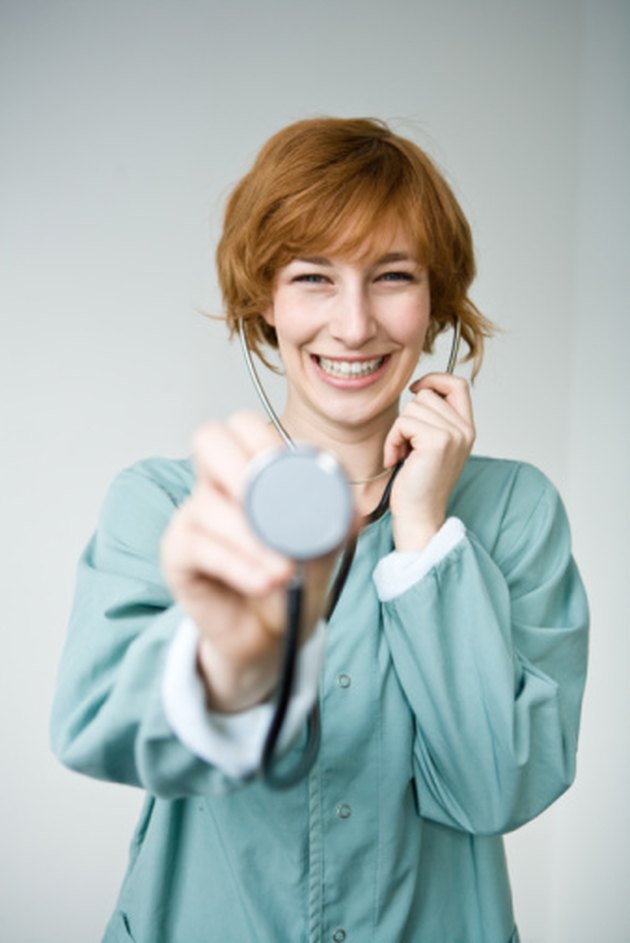 Taxpayers employed as traveling nurses are eligible for an array of deductions for work-related expenses. The Internal Revenue Service requires that each deduction be an ordinary and necessary expense. Deductions are limited to traveling nurses not reimbursed by an employer. The total annual non-reimbursed expenses are taken as miscellaneous deductions and are limited to the portion that exceeds 2 percent of adjusted gross income.
Transportation Expenses
Nurses who do not have a principal place to perform work duties can deduct a portion of commuting expenses. The deduction is limited to travel from the first workplace to other workplaces before returning home. For example, if you visit three patients during the day, all commuting expenses are deductible except for the initial commute from home to the first patient, and the commute from the third patient to home. If you use a personal vehicle, the deduction is calculated by multiplying the prevailing IRS standard mileage rate by all miles driven.
Work Tools
Nurses can deduct the costs of purchasing medical implements. The full price is deducted in the year of purchase if the tool is not ordinarily expected to last beyond one year. All other tools must be depreciated over time. The IRS provides the depreciable life that taxpayers must use based on the type of tool purchased. However, nurses can make a Section 179 election to deduct the full purchase price in the acquisition year if total tool purchases for the year do not exceed $250,000.
Meals and Lodging
A traveling nurse required to provide services to a patient outside of the local area can deduct the cost of meals and hotel accommodations if an overnight stay is required. Hotel charges can be fully deducted provided the accommodations are not luxurious or extravagant. However, the deduction for meals is limited to 50 percent of the cost. Meal costs can be calculated in two ways: you can calculate the sum of all actual costs or use the IRS daily per diem rate.
Uniform
You can deduct the costs of purchasing and maintaining a uniform if you are required to wear a uniform to work and it is not appropriate to wear outside of work. Deductible maintenance costs include periodic cleaning and necessary tailoring.
Self-Employed
A self-employed traveling nurse is entitled to take all of the deductions available to employed traveling nurses. However, the deductions are not subject to the 2 percent adjusted gross income limitation. Additional deductions available to self-employed nurses include health and dental insurance premiums, advertising, office equipment and supplies necessary to conduct the business.