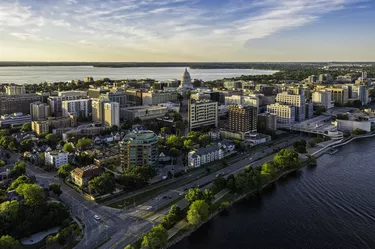 As the cost of living continues to rise in the United States, finding the cheapest places to live in Wisconsin has become a necessity for many people. According to the U.S. Bureau of Labor Statistics, national consumer prices rose 2.3 percent in 2019, while shelter rose 3.2 percent and medical care topped the charts with 4.6 percent, just under tobacco products. Ranking 19th in affordability compared to the rest of the country, according to U.S. News & World Report, Wisconsin is home to many affordable cities and towns you can someday call home.
Most Affordable Cities to Live in Wisconsin
One of the most affordable cities to live in Wisconsin is its capital, Madison, Wisconsin. With a population of around 254,977, its average home value and rent are on par with the national average, which can be hard to find in city living.
While urban, Madison offers a mix of suburban environments for those who want the best of both worlds. Madison can be an exciting and comfortable place to call home, boasting plenty of restaurants, cafes, nightlife, parks and culture.
If looking for the cheapest place to buy a house in Wisconsin, the ranking factors differ. In a study performed by Smart Asset, the average closing costs, annual property taxes, homeowner's insurance, average annual mortgage payment and median income were assessed to determine the most affordable places in America. According to Smart Asset, the most affordable city to purchase a home in is Merrill, Wisconsin. While the average closing cost and other metrics might not be the lowest of the cities ranked, it's the most affordable compared to average household income.
Best Place to Retire in Wisconsin
For many people, retirement isn't possible in their current city. As the cost of living rises in many areas, current and future retirees wonder: where is the best place to retire in Wisconsin?
If looking to retire in a city, try the capital, Madison, which was ranked the best palace to retire in Wisconsin by U.S. News and World Report, Milwaukee Business Journal writes. If looking for something more suburban, try the towns listed below.
Elm Grove, Wisconsin, ranks No. 1 as the best place to retire in Wisconsin, according to Niche's 2021 rankings. A Milwaukee suburb of around 6,000, Elm Grove is a community with a suburban feel, only a short drive away from downtown Milwaukee.
While the median home value of ​$370,500​ in Elm Grove is above the national average of ​$217,500,​ according to Niche, the median rent is below the national average. In Elm Grove, rent averages out around ​$950,​ while the national average is ​$1,062​. With plenty of restaurants, coffee shops and parks, there is a strong sense of community in Elm Grove with plenty to do.
If looking for a more sparse suburban environment than what Elm Grove offers, Williams Bay, Wisconsin, might be the place for you. Nestled on Geneva Lake, it's a small town with a population of around 2,600, while its median home value and rent are on par with the national average, according to Niche.
Williams Bay has a lot to offer for outdoor enthusiasts, with hiking and biking trails and ample fishing spots, Travel Wisconsin writes. There are countless ways to pass the time throughout your retirement years with plenty of dining spots, coffee shops and arts and cultural highlights.