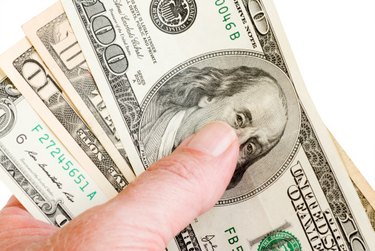 Finding the right gift for that special person can be a challenge. You want something personal enough that is shows that you care, but you also want to be sure that the recipient likes and uses the gift. Though a gift of cash can seem impersonal, you can turn it into a one-of-a-kind gift by using some creativity. Don't simply stick a check or some bills in a card—instead, turn your monetary gift into an attractive and memorable piece that the recipient will enjoy and remember for years to come.
Function
Discovering a unique way to give money as a present turns this ordinary gift into something special. You don't want your recipient to think that you forgot about the gift-giving occasion and chose money simply because you couldn't find something more personal. A unique monetary gift shows the recipient that the gift is something you took time to select. Moreover, you can personalize the gift to suit the recipient's interests, making it especially thoughtful.
Types
Choose from a number of ways to give money in a unique way. The fashion-conscious recipient might expect a clothing item, but he'll be surprised when he opens the box to find a shirt made of dollar bills. Give a child a piggy bank filled with silver dollars, which can encourage her to save the monetary gift. A romantic twist on a monetary gift is to twist bills in denominations ranging from $1 to $20 into the shape of roses, attach them to faux stems and give a money bouquet.
Considerations
The unique idea you choose for your money gift depends on your relationship with the recipient and his interests. For example, if he loves winter sports like skiing, you can hide the cash in a pair of gloves for a creative surprise. Think about the ways that your recipient might use the money—or the ways you want him to use the money—and choose a unique way to give the gift based on that idea. For instance, if you're giving money as a high-school graduation gift and want the recipient to put the money toward books for his first semester of college, you can include the money as a "bookmark" in a book about living frugally in college or surviving freshman year.
Misconceptions
Cash gifts often have a reputation for being impersonal, which can be the case if you put the gift together at the last minute. However, a unique cash gift shows that you took time to turn the monetary gift into something that suits the recipient's tastes. In fact, The Knot reports that cash is an appreciated wedding gift that leaves the couple smiling straight to the bank.
Benefits
The benefit of a monetary gift is that you know the recipient will put it to good use. Whether she's going through a tough financial time or needs some extra spending money for that upcoming vacation, your recipient will find a way to spend the money. And, she'll spend the money on something she wants. The unique way you package or give your money will make for a memorable gift for your recipient.