Form 1040EZ is the simplest version of the individual federal income tax return. You can file your taxes using this form only if you're single or married filing jointly and you meet several other conditions. The 1040EZ is only one page, and the Internal Revenue Service estimates that completing the form and filing it will take the average taxpayer no more than a couple of hours.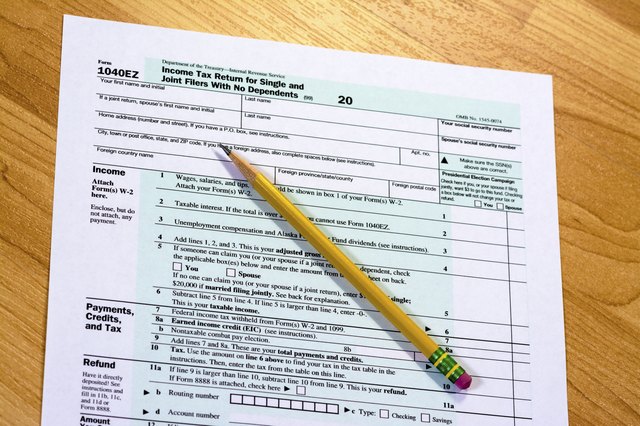 credit: knowlesgallery/iStock/Getty Images
Determine Taxable Income
Step
Enter your name, address information and Social Security number in the spaces for them at the top of the form. Enter your spouse's information, too, if you're married. Check the box under "Presidential Election Campaign" if you want $3 of your tax to fund presidential elections.
Step
Enter all wages, salaries and tips on Line 1. Add up the amounts from all W-2 forms, if you have more than one, and combine them on this line.
Step
Enter the amount of interest you earned on Line 2. Banks and other institutions that pay interest typically send you a copy of Form 1099-INT. If the amount on Line 2 is more than $1,500, you cannot use Form 1040EZ.
Step
Enter the amount of unemployment compensation and Alaska Permanent Fund dividends you received, if any, on Line 3.
Step
Add lines 1, 2 and 3 together, and enter the result on Line 4.
Step
Check the appropriate box on Line 5 if you, your spouse or both of you can be claimed as a dependent on someone else's tax return, such as your parents'. It doesn't matter whether someone actually does claim you as a dependent; if someone can, you must check the box.
Step
Follow the directions printed on the form for entering the proper amount on Line 5, based on your filing status and whether you checked one or more boxes.
Step
Subtract Line 5 from Line 4. Enter the result on Line 6. This is your taxable income, which you will use to determine your tax. If Line 6 is larger than $100,000, you cannot use Form 1040EZ.
Determine Tax Due or Refund
Step
Enter the amount of federal tax withheld from your pay on Line 7. This should appear on your W-2 forms.
Step
Enter the amount of your earned income tax credit, if you are claiming one, on Line 8a. Enter your nontaxable combat pay, if you have any, on Line 8b.
Step
Add Line 7 and Line 8 and enter the result on Line 9.
Step
Use the tax tables included in the 1040EZ instructions to find your tax. Use the figure on Line 6 to find the correct amount for your filing status (single or married).
Step
Check the box on Line 11 if you had health insurance all year. If you weren't covered for the full year, follow the directions in the 1040EZ instructions for determining whether you must pay a penalty and, if so, how much. Enter the amount of your penalty on Line 11.
Step
Add lines 10 and 11 and enter the result on Line 12.
Step
Compare Line 9 with Line 12. If Line 9 is bigger, you're due a refund. Subtract Line 12 from Line 9 and enter the difference on Line 13a. Enter your bank information on Lines 13b through 13d to get your refund by direct deposit; otherwise, you'll get a check. If Line 9 is smaller than Line 12, however, you owe more tax. Enter the difference on Line 14. You can pay by check, money order, credit card or debit card, though paying with a card adds a fee.
Step
Sign and date the form if filing a paper tax return; if filing electronically, follow the instructions of your e-file service provider.