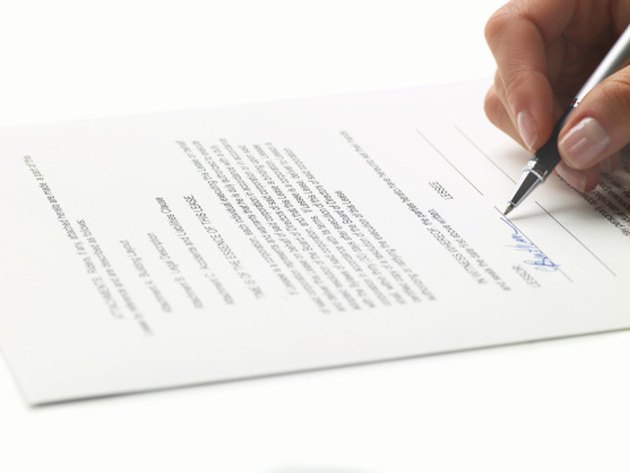 A land contract, otherwise known as a contract for deed agreement, is an installment payment agreement between a buyer and a seller in which the seller, instead of a bank, finances the purchase of a parcel of real estate. A land contract can benefit buyers who cannot obtain bank financing, and sellers who wish to avoid the red tape of third-party financing.
Possession
Land contracts generally do not require large down payments -- in fact, some land contracts require only monthly payments. The buyer is typically allowed to move in as soon as the contract is signed and the first payment delivered to the seller. After the buyer moves in, the seller is no longer permitted to enter the property without the buyer's permission unless the buyer defaults.
Title
In a land contract, the seller retains title to the property until the buyer pays all installments and complies with any other contractual duties. The seller retains not only legal title, but also physical possession of the title document. The land contract should require the seller to surrender the title document and provide the buyer with all necessary assistance in transferring the title to the buyer, as soon as the buyer fully performs his duties under the contract.
Payments
Many land contracts provide for equal monthly payments for the entire contractual period. Some require a large "balloon payment" for the last installment. The contract should clearly state the amount of each payment, the date on which it is due, and the penalties for late payment. It should also list the total sales price and the applicable interest rate. Many sellers demand a higher sales price in exchange for waiving the down payment.
Encumbrances
Encumbrances are legal claims on the property by a third party, such as a mortgage or tax lien. The buyer should perform a title search to determine if any encumbrances against the property have been recorded. The buyer should also insist that the seller warrant that no encumbrances exist on the property other than any that have been already revealed to the buyer and listed in the contract, and agree to indemnify the buyer against the risk that someone holding an encumbrance against the property will foreclose.
Default Provisions
The buyer's biggest risk in a land contract is that he will default on payments before the end of the term, thereby losing his right to possession of the property along with his chance to take title to it. Default provisions should be clear and detailed so that the seller cannot unfairly use contractual ambiguity to the detriment of the buyer's interests. Since, in the event of default, the buyer's installment payment will not count as equity, the contract should state that in the event of default the buyer is entitled to a refund of any installments paid that exceed the reasonable rental value of the property.