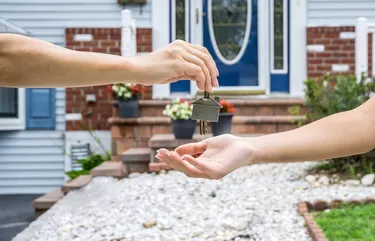 How to Rent an Apartment at 17 Years Old
Most states set the age of majority, or legal adulthood, at 18, preventing a minor from entering into a binding rental contract or lease. As a result, apartment landlords can refuse to rent to underage tenants. Should the minor fail to pay rent, damage the property or otherwise break rental-contract provisions, the landlord would have trouble enforcing the contract against a minor. However, legal emancipation, marriage or military service may allow a 17-year-old to rent an apartment on her own. Additionally, a co-signer can provide the financial backing needed to secure a rental. Credit scores may be needed and checked from either or both co-signers when signing for their own apartment, so remember to have good credit when going to sign for your first apartment. Bank statements, proof of address and a valid ID may also be needed when signing, for proper identification.
The property manager, real estate agent or workers at the apartment complex will be the ones to contact about their policies about age and what to bring for signing purposes in the apartment lease or apartment rental process. A credit check normally requires a valid and recent credit report, showing activity and/or part-time or full-time employment activity as a source of income to afford the rental property. In most cases, parental permission or acceptance from a legal guardian is needed when signing for those of a minor age, even when in college living off-campus or when looking to extend a lease term.
Reasons for Renting At 17
An emancipated minor takes on adult responsibilities before the legal age of adulthood. State emancipation laws vary, but in most states where the age of majority is 18, an individual who is 17 years old or younger may become emancipated either by court approval or by action, such as getting married or joining the military. An emancipated minor can usually rent on apartment on her own, according to Nolo.
Landlords might also make exceptions for 17-year-olds who want to rent an apartment with parental consent, such as a college student who moves away from home to attend school.
Meet Basic Screening and Background Requirements
A landlord may implement strict screening standards for prospective tenants. Just as any adult, a 17-year-old must have sufficient credit, income, no less than three times the rent amount, acceptable rental history with no prior evictions and an acceptable criminal background check.
A 17-year-old living on her own for the first time may have no credit, which is not the same as bad credit. Nevertheless, a limited credit history and rental history pose a higher risk for a landlord, since the tenant has no track record of meeting financial obligations.
Compensate for Lack of Credit
A 17-year-old must cover a rental deposit, security deposit and monthly rent. Landlords request bank account statements, earnings statements, such as pay stubs and tax returns, and proof of current employment to determine whether a tenant can afford the rent. An underage renter may have trouble meeting rent-to-income requirements due to part-time, seasonal, inconsistent or an otherwise limited employment history. Large amounts of cash reserves, letters of reference from teachers, employers or other reputable and responsible adults may help. The decision to rent to a 17-year-old is ultimately up to the apartment owner or property management company.
Co-Signer Is the Best Compensating Factor
A co-signer, or guarantor, promises to pay the rent or cover damages if the tenant doesn't. A co-signer essentially acts as an insurance policy for the landlord's protection. A parent, guardian or other reliable adult who meets the landlord's minimum income and credit requirements may co-sign, becoming a part of the rental agreement. Co-signors also provide the landlord with credit, income, asset and employment documentation. An adult who agrees to co-sign becomes equally liable for rent payments and may be sued for outstanding rent or money owed to a landlord. A co-signer remains on the rental contract until the tenancy period ends, at which time, the landlord may determine whether to renew the tenant's lease without the co-signer.
Resources for Underage Renters
A youth in need of low-income or free housing may seek help from nonprofit and government resources in their area, such as a housing authority. Cities and states provide funding to temporarily or permanently house youths at risk of becoming homeless. However, many housing programs require a renter to be at least 18 years old.