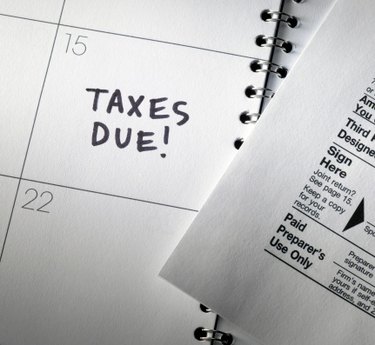 Tax preparation can be costly, frustrating and time consuming. If you need professional help preparing your taxes, but can't afford a high-priced accountant or the exorbitant fees of franchise tax services, you still have some alternatives. In fact, you'll find the cheapest places to do your taxes right in your neighborhood--sometimes right under your nose. With today's modern technology, help sites and software downloads can also be a cheap way to do your taxes.
At Home
As long as you have Internet access, the cheapest place to do your taxes is at home.You don't have to be an expert on taxes if you're filing a fairly simple return and can follow directions. Online tax preparation software sites, like TaxAct and Turbo Tax, offer free electronic filing services complete with simple step-by-step directions. There is no charge to prepare and e-file your federal return, but you will be charged a fee to file your state return. You may also purchase upgraded versions of the software that offer additional features, like importing last year's tax information, live-chat assistance or telephone support. Upgraded filing packages typically range between $7.95 and $17.95, and often include filing state returns.
Volunteer Income Tax Assistance Program
The IRS developed the Volunteer Income Tax Assistance Program (VITA) to help citizens who cannot afford to have their taxes prepared by professionals, and cannot prepare them on their own. Typically applicants who earn under $49,000 per year are eligible for these services. VITA participants get their taxes prepared and filed completely free of charge. VITA services are found nationwide, in public libraries, schools, park districts, and community centers, and are staffed by certified volunteers trained and sponsored by accounting agencies.
Brand Name Tax Preparation
If you make too much money to qualify for free tax assistance, and cannot prepare your taxes yourself, you can always turn to well-known tax preparation franchises like Jackson Hewitt or H&R Block. In-office tax preparation costs increase according to the complexity of your return. Fees for even the simplest tax preparation start at around $300. The good news is that both companies now offer do-it-yourself online tax preparation, and e-filing services, at a much lower rate than in-office services. Some include live assistance from tax professionals. As of 2010, H&R Block's online tax filing assistance program costs $79.95, and Jackson Hewitt offers two online tax prep assistance packages for $21.50 and $35.