Food is a necessity, but it's also one of the most flexible parts of your budget. Unlike rent, which is difficult to change, you can often make sensible food choices that keep your meals affordable. The U.S. government provides monthly data for food costs based on four model meal plans. In April 2015, the cost of those plans ranged from $387.40 to $774.00 for a family of two. Costs were slightly less for seniors.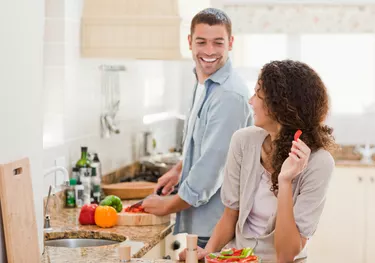 Understanding the Government Data
The United States Department of Agriculture Center for Nutrition Policy and Promotion has four model food plans: Thrifty, Low-Cost, Moderate-Cost and Liberal. The models are designed to provide for a healthy diet that meets nutritional standards at four different cost levels. The cost of each plan is regularly adjusted for inflation.
In April 2015, these were the meal plan estimated costs:
Thrifty: $387.40/$367.00

Low-Cost: $495.50/$474.20

Moderate-Cost: $618.80/$592.30

Liberal: $774.00/$712.90

The first number is for a family of two, male and female, ages 19 to 50. The second number is for a family of two, male and female, ages 51 to 70.
What Makes a Healthy Food Plan
To determine what constitutes a healthy meal plan, the USDA looks at several factors including the MyPyramid food recommendations. In 2011, the government introduced the simplified "Choose My Plate" model that replaced MyPyramid. "Choose My Plate" includes several guidelines that include eating vegetables, fruits, grains, dairy and protein. Specifically, the breakdown, based on a 2,000-calorie a day diet, is:
2.5 cups of vegetables

2 cups of fruits

6 ounces of grains

3 cups of dairy

5.5 ounces of protein

There are also more specific recommendations, such as choosing a lower-fat dairy and eating more whole grains. You can view the full breakdown on the Choose My Plate website.
Relevance to Your Personal Budget
The actual food expenditures of families can vary widely from region to region. Depending on other expenses, food will take up a different percentage of a family's overall budget. The Economic Policy Institute found in 2013 that a four-person family in New York spent 9.6 percent of its budget on food while a similar family in Seattle spent 12.9 percent. The institute used the USDA figures in its food estimates.
Trimming Your Food Costs
If you are tight on funds, you can make some simple changes to cut back on your food expenditures.
Plan meals in advance

Cook in large batches

Eat your frozen leftovers
Buy staple ingredients and cook at home
Clip coupons
Read fliers and buy sale items
According to Wells Fargo, Americans on average throw out 20 percent of their food. You can reduce your grocery budget by simply reducing your own waste. Create a grocery list and avoid spontaneous trips to the supermarket. Forbes blogger Mindy Crary recommends buying the ingredients to make comfort food, so you can satisfy your cravings in your own kitchen instead of ordering takeout.