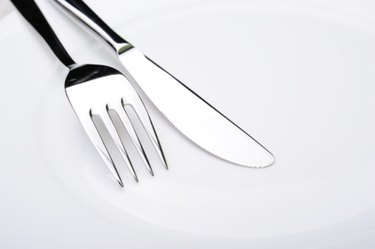 Old sterling silver jewelry, serving ware, coins and eating utensils can be sold for cash. Make sure that all the materials you want to sell are authentic sterling silver and polished properly. Regularly monitor silver prices so that you sell the items while silver prices are up. Take your items to several retailers until you find someone who will pay you a fair price or get estimates from silver-buying businesses online.
Step 1
Gather all the silver items that you are willing to sell. Items that are commonly made of silver include eating utensils, serving ware such as teapots and trays and jewelry. Check each piece and make sure that they are made of sterling silver, which is 92.5 percent silver and sells for the highest price. Most articles will be stamped somewhere with small lettering that indicates it is sterling silver, such as the word Sterling or .925
Step 2
Use silver polish and a clean, dry cloth to polish all the silver items. Make sure that all tarnished spots are rubbed off and that the silver sparkles. This will help silver buyers know that your silver is of good quality.
Step 3
Use a phone book or the Internet to research what places buy silver in your area. Jewelers, antique shops and metal fabricators are common places that pay cash for silver.
Step 4
Check financial reports to see the current selling price of silver and the historic values. If the price has been steadily rising, it is a good time to sell. If the price recently dropped dramatically, you may want to sell your silver at a later time, when prices rise.
Step 5
Gather your silver items and take them to one or several shops that purchase silver. Shop around and receive at least two estimates so that you know you are getting the best price. The dealer should give you a price for your silver. Hand over your silver items once you receive your payment.
Tip
Consider whether some items are worth more as-is, such as nice jewelry, and others are outdated and are worth more for just the metal. You can sell large amounts of silver online through silver-buying websites
Things You'll Need
Sterling silver items

Silver polish

Clean, dry cloth

Silver buyer