After working hard your whole life, you're probably researching cheap places to retire to help make your retirement savings last well into your golden years. While there are several states that don't tax personal income and that are certainly more favorable to retirees, the American Association of Retired Persons, or AARP, has a clear winner based on a supply of affordable housing and lower costs for health care and transportation: Birmingham, Alabama. Other groups have additional ideas, but deciding where to retire really depends on the factors that are most important to you.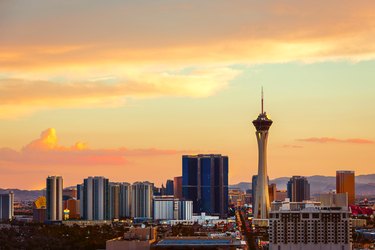 Which Cities Are Economically Wise for Retirees?
Affordable housing is a primary concern for retirees, especially those who plan to move to a new state or city for retirement and will want to purchase a home. Cities with a large stock of affordable housing and high likelihood of appreciation are top choices among retirees. According to Danielle Hale, chief economist at the National Association of Realtors, the local economy also is a factor that makes an area desirable. Other factors that determine a market's attractiveness to home buyers, according to Realtor.com, are existing home sales, new construction, unemployment rates and median household income. People want to live in affordable, nice locations that are cheaper than surrounding areas, but still have strong economies and growth potential of their own.
Las Vegas comes in atop the National Association of Realtors' list of affordable housing markets with excellent growth potential. The median home price is $285,045 with a projected 8.7 percent growth of economy in 2018. Out of the 100 top markets, this 8.7 percent economic growth rate is 2.3 percent higher than the 6.4 percent projected for other markets on the list.
Second on the list of affordable housing markets is Dallas. The Lone Star State's third-largest city has a median home price of $339,300 and is experiencing an economic boom as companies expand, relocate or open in the area. You will find the best housing prices in the various suburbs that surround Dallas and still be close enough to enjoy the city.
Situated 30 minutes between Orlando and Daytona Beach, Florida, the third city on the list is Deltona, which has lower median home prices than both Las Vegas and Dallas as well as a projected price growth of 6 percent. Home prices in the metro area average $275,050, but in the city limits itself, the average price is $159,000. Employment rates are expected to rise by 2.9 percent, and coupled with an economic growth of 8.3 percent in 2018, Deltona is poised to be one of the cheapest places to retire in the United States.
Avoiding State Taxes on Your Retirement Income
Another important thing to consider when deciding where to retire is whether the state has personal income taxes. Currently, 37 states do not tax Social Security benefits, but you could still be taxed on pensions, withdrawals from your 401k or IRA accounts. However, nine states do not tax personal income at all. And, if you're really lucky, some states will have no sales tax as well. Florida, Nevada, Texas, New Hampshire, Tennessee, Wyoming, Washington, Alaska and South Dakota all do not tax personal income, which means you will not have to contend with state income taxes on your retirement withdrawals or pensions.