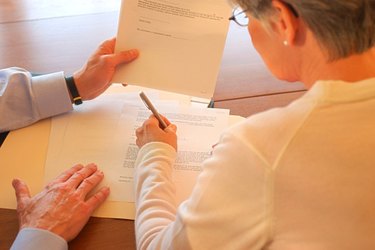 A small estate affidavit allows for settlement of an estate without having to go through probate. According to the Texas Probate Code, the value of the estate must measure less that $50,000, not including the person's homestead. The person inheriting the property must be the clear heir, such as the surviving spouse or child. In order to inherit the deceased homestead, the heir must have been living on the property with the deceased. Though you may attempt to file an Affidavit of Small Estate yourself, a lawyer with experience with these affidavits can help you avoid the pitfalls of submitting an inaccurate or incomplete affidavit.
Step 1
Obtain a copy of the Small Estate Affidavit and Order from Texas Probate Division. You can download the appropriate form from their website. If you hire an attorney, he will supply you with the correct form. Some county courthouse clerks may also be able to provide you with the correct form.
Step 2
Request a certified copy of the decedent's death certificate. The funeral home that handled the funeral arrangements can obtain these for you. You must pay a fee for each copy of the death certificate. This certificate must accompany your Small Estate Affidavit.
Step 3
Fill out the Small Estate Affidavit. Complete all sections. You must clearly explain your relationship to the deceased, list all property and all liabilities of the estate, including medical bills, credit card debt and any outstanding loans. You must provide the address and telephone number of all heirs and all those to whom the deceased owed money. You must differentiate between community property, which under Texas law is held by both husband and wife, and separate property, which may be property owned before marriage or by another relation, such as a child. Travis County, Texas Probate Court strongly urges anyone filing a Small Estate Affidavit consult with an attorney to make sure property is properly differentiated.
Step 4
Meet with all heirs before a notary. Each heir must sign the affidavit, attesting the information within the affidavit is true. A notary must witness each signature and affix her seal to the document.
Step 5
Gather two witnesses. The witnesses must also sign the affidavit in the presence of a notary. The witnesses must have no interest in the estate, so they cannot be heirs or other relatives. Ask a neighbor, friend or co-worker to serve as a witness.
Step 6
File the Affidavit of Small Estate, along with the certified copy of the death certificate, with the court clerk in the county where the decedent resided when he died. Pay the required filing fee.
Tip
You may only use the Small Estate Affidavit if the deceased left no will.
In order to use the Small Estate Affidavit, the only real estate owned by the decedent must be her homestead.
Things You'll Need
Certified death certificate

Pen

Filing fee