If a friend or loved one is housed in the Harris County Jail in Houston, Texas, you can help make their time in the institution a little more comfortable by sending money for commissary items. This is done through the Inmate Trust Fund, and the jail provides families with several options for contributing to an individual's account. Harris County Jail allows inmates to spend up to $150 a week on commissary purchases.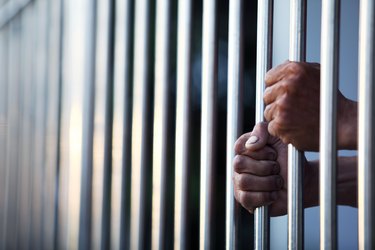 Lobby Machines
If you don't live far from the jail or you happen to be at the jail for a visit, you can use the lobby machines at 701 N. San Jacinto or 1200 Baker Street to add money to an inmate's commissary account. Once at the machine, enter the inmate's full name and system person number (SPN). Then simply follow the prompts to add the funds.
Western Union
Since there are over 70,000 Western Union locations in North America, you won't have any trouble finding one to arrange funds for a Harris County inmate. The company does charge a fee to make the deposit and there is a deposit limit of $300. You may visit any Western Union facility, call 800-634-3422 or utilize Western Union's website to transfer funds into an inmate's account. In addition to entering the inmate's name and SPN, you'll also need to type in ITF-Texas when prompted for the code city.
By Phone Using TouchPay
Smaller deposits can easily be made using the TouchPay system. Call 866-232-1899 and have the inmate's full name and SPN ready. The system accepts both debit and credit cards and allows for deposits of up to $100. Be aware that there is a small charge to use this method.
Ace Cash Express
Ace Cash Express, referred to as ACE, is available in 35 states at any of 1,485 stores. To locate the store closest to you call 877-Find Ace. ACE allows for large transactions of up to $1,000, but only accepts cash deposits. Again, you'll need the inmate's full name and SPN, along with extra money to cover the service fee.
Online Deposits Using TouchPayDirect.com
Friends and family who are housebound or experiencing a busy month that makes it difficult to get out and complete a deposit in person can utilize the TouchPayDirect.com payment method from their home computers. Select the red Make a Deposit Now button on the company's homepage and follow the prompts to enter the inmate's full name, SPN and payment information.
Money Orders and Cashier's Checks
All checks and money orders made out to the Inmate Trust Fund are deposited into an inmate's commissary account. Send the payments to the Harris County Sheriff's Office, Inmate Trust Fund, 1200 Baker St., Houston, Texas, 77002. The money order cannot be a personal money order, and the cashier's check must be from a state or national bank. Both forms of payment must include the individual's name and SPN either in the memo section or on the bottom of the payment.