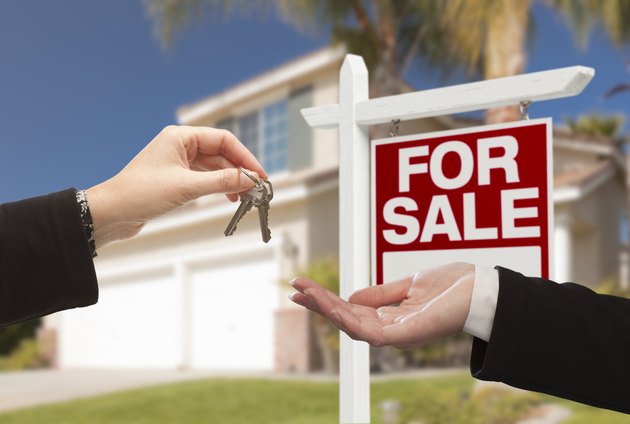 Buyers looking for houses to fix up and financing incentives may benefit from homes sold by the Department of Housing and Urban Development. A HUD-owned home can be a good deal, but the sale carries certain restrictions. The advantages and drawbacks of HUD houses usually are reflected in the home's price, which is often lower than non-HUD properties.
FHA Loan Foreclosure
HUD oversees the Federal Housing Administration, or FHA, which insures mortgage lenders against losses when FHA borrowers default. When borrowers don't fulfill their payment responsibilities on an FHA loan, the mortgage lender can foreclose, depriving the homeowner of their ownership rights. After foreclosure, the mortgage lender submits a claim to the FHA and the home's title transfers to HUD.
Finding a HUD House
A HUD house is listed for sale through a local real estate broker or agent contracted by the department. Agents promote HUD homes much like they would other foreclosures and non-foreclosed properties. Buyers can find current listings on HUD's website. Local multiple listing services and sale signs also may indicate that a home is owned by HUD. Real estate agents that don't work for HUD can help buyers find HUD homes, too.
Buying a HUD Home
HUD offers a variety of incentives to owner-occupant homebuyers; however, incentives vary by location and are subject to change. A lower-than market price is one type of incentive. Homebuyers prepared to repair and renovate damaged homes can get a HUD house at a bargain price because they are sold "as-is." This means that buyers are responsible for all repairs. HUD encourages buyers to obtain a professional home inspection before making an offer on a HUD house.
HUD Home Financing
HUD works with FHA-approved mortgage lenders to offer financing to eligible buyers. The FHA 203(k) loan provides financing to buy and repair a HUD house, based on the home's value after repair. This saves homebuyers the trouble and expense of taking out a purchase loan and a subsequent construction loan. The 203(k) loan program improves the appearance of communities by allowing buyers of modest means to buy and fix houses they might not otherwise be able to afford.