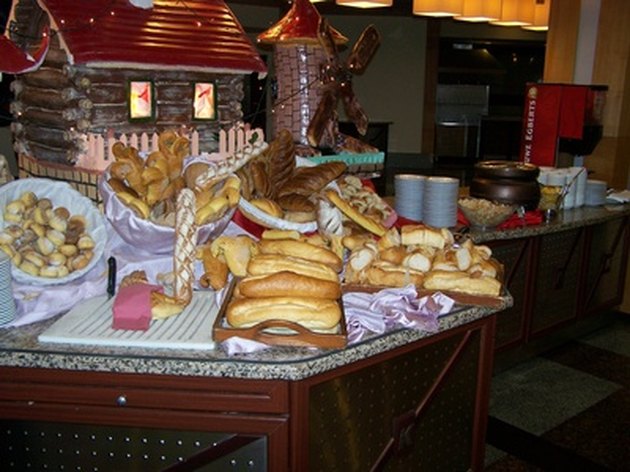 When you're throwing a big party or wedding, catering will be one of the big ticket items in your budget. If your budget is tight, you may not have to ability to call high-priced caterers and tell them what you want. Fortunately, there are plenty of ways to cut corners while still having a wonderful event highlighted with cheap and tasty catering.
Ask for Help
Friends and family can help cook their speciality items for your party or wedding, or you can give them recipes and ask them to pitch in. They can also help as servers during the event itself, saving you the cost of paying the caterer for waitstaff.
Minimize Food Choices
If you're having a sit-down dinner or lunch, you don't have to offer several choices of entrée, say, beef and chicken and salmon. You bring down your catering costs when you limit your guests' food choices and choose lower-cost entrées, for instance, chicken rather than beef. Consider setting out meats and cheese with a variety of fruit and vegetable trays on the side.
Ask for Budget-Friendly Ideas
Many caterers are willing to work within a budget. Tell your caterer exactly what you have to spend. Be realistic, and you might be surprised at what your caterer can accomplish with little money. Look for caterers who are new to the business and trying to build their clientele to find discounts as well.
Set Up a Buffet
Serving food on a buffet is always cheaper than having a sit down dinner or passed hors d'oeuvres because your guests only take the food they want. You can offer your guests a greater variety of choices this way, and you won't have to pay for waitstaff to pass hors d'oeuvres or wait on tables.
Visit Supermarkets and Discount Warehouses
Supermarkets often have service delis that will provide ready-to-serve food for catered occasions, and discount warehouses often have fresh platters and frozen hors d'oeuvres. These choices offer ease of presentation, as all you'll have to do is microwave any frozen items, move food to nicer serving trays if you wish and set it out for your guests to enjoy.
Host a Lunch Instead of a Dinner
Because guests' expectations for lunch are usually more casual, you can save money by holding your event at lunchtime rather than dinnertime. With a more informal atmosphere, you'll spend less on presentation and decoration, and your guests will be happy with sandwiches and simple platters of fruits and vegetables that might look cheap at dinnertime.
Cut Back Your Guest List
Caterers charge by the person, so you'll pay for every guest who shows up. Hone your guest list to the people you really want to attend your party or wedding, and don't feel like you have to invite everyone you know. Keep track of RSVPs so you can give your caterer an accurate head count to make sure you don't pay for people who don't show up.
Skip the Appetizers
If you are serving a sit-down dinner or buffet, you may not need to add appetizers or hors d'oeuvres to the event as well. Appetizers are often more expensive than entrées on a bite-by-bite basis, so cutting them out will bring your budget down significantly. Don't feel you have to feed your guests more food than they can comfortably eat.