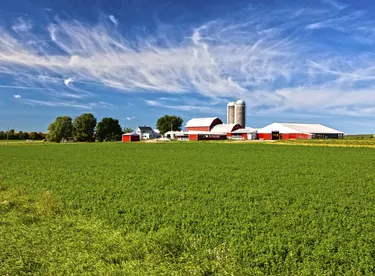 As more and more property is bought by non-resident entities, leasing land can be the best – and sometimes the only – option for a new farmer. Privately owned land lease rates can be high enough to price out smaller farmers, who are often outbid by large farming corporations. However, many municipalities are offering government land for leasing specifically to small-scale and local farmers. There are a series of government programs that range from municipal to federal levels that offer small plots of government land for agricultural development.
Applying for Government Land for Lease
Government leases are often a bit stricter than other types of leases in regards to permanent improvements. Government agencies are reluctant to allow tenants to build permanent structures because, once the term of the lease is up, that government agency will be responsible for maintaining the property on top of the land itself. According to Thomson Reuters Practical Law, there are many pros and cons when it comes to leasing from the government. One advantage is that rental payments are often deductible from the leaser's taxes. However, the cost for leasing property is usually much higher in the long term than it might be to purchase the property.
The National Agricultural Law Center explains that the two primary forms of leasing from the government for agriculture are cash rent or crop-share leases. Essentially, you decide whether you want to pay a flat rate to lease the land or if you would prefer a sliding scale that's related to your yield and the success of each year or season. A flat rate results in the greatest gain from large yield years, but a sliding scale crop-share lease provides some consideration for unexpected disasters or growing pains of an inexperienced farmer.
Finding Government Land for Lease
When you're looking for government land for lease, the first step is to look locally and expand your range as necessary. Small government bodies such as town councils will often have community gardens where you can get started, but they may also have some amount of under-served property that has defaulted to government ownership that they would like to make more productive. If your city or township government doesn't have any properties for you, you can look to county and state resources, paying particular attention to the Department of Land Management or Department of Agriculture.
The government must offer land for competitive bidding before offering to noncompetitive parties. This means that any government land that's made available for use by public/private entities must be put up for bid at a limited rate per acre and can only be offered to government partner entities if there have been no bids on the property. While most of these properties are intended for mineral, oil and natural gas exploration, some of them will be arable land suitable for agriculture. Consult with the Department of Land Management to determine if there are any suitable properties available near you.
Leasing Property to the Federal Government
The U.S. General Services Administration (GSA) leases properties to provide housing and services for government employees from various other agencies and departments instead of leasing property to private individuals or corporations.
When it comes to leasing property to the federal government, the GSA is where you'll want to start. The writers at Colliers explain that the GSA will often negotiate a series of subleases to other agencies. The GSA will take every effort necessary to enforce the principal restrictions and requirements put into place by the original lease, which should help set your mind at ease over possible breaches by sub-leases.