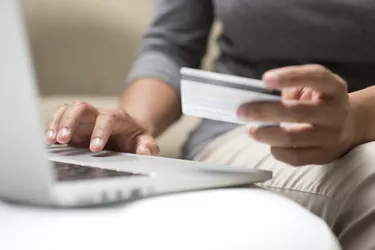 The Nolo legal website recommends keeping your credit card statements for seven years, but holding onto documents for that long is often difficult. If you lose or misplace yours, credit card statements aren't difficult to replace. Credit card companies allow you to view and download credit card statements online.
Accessing Online Statements
Visit the credit card company's website and log on to your account. If you don't have an online account, you must establish one to access your statements and other documents on the website. Once you log into your account, look for an "account activity" or "statements" tab. This will lead you to your most recent statements, which are typically listed by date. How far back you can view statements varies, depending on the credit card company. For example, as of publication both Discover and Citibank allow cardholders to view seven years of statements online. Wells Fargo retains credit card statements online for two years. Bank of America's website says its eBill statements are available online for six months.
Requesting Older Statements
If you can't access the statement you need, you'll need to contact the company's customer service or credit card department to make your request. In most cases you can contact the company by phone or mail to request copies of old credit card statements. If your credit card is through a bank with a local branch, stop in to request the statements in person. Depending on the company's policy, a fee may apply. For instance, Discover states a $5 fee may apply for paper statements older than the current billing cycle.