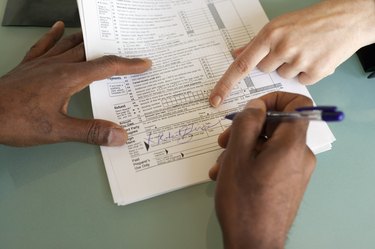 Taxpayers who sell or transfer business property during the tax year generally must complete IRS form 4797, Sale of Business Property. The form may also be used for reporting gains and losses on business-owned stocks, as well as depreciation on other business holdings. If you receive a Form 1099-B, Proceeds from Broker and Barter Exchange Transactions, or a Form 1099-S, Proceeds from Real Estate Transactions, you may need to complete Form 4797.
Step 1
Enter in Part I the required information regarding each business property owned for more than a year before being sold or transferred during the tax year. Form 4797 requires a description of each property, the date when the property was sold or transferred, the price, and gains or losses on the property during the year. Follow the instructions on lines 3 through 9 of Part I to enter the required dollar amounts from other tax forms.
Step 2
Enter in Part II gains or losses from appreciation or depreciation of business properties that you have owned for less than a year. Gains and losses from preferred stocks and small-business company stocks should also be listed in this section.
Step 3
Enter the dollar amounts for each gain or loss listed in Part II according to the instructions listed on the form. Calculate the gain or loss for Part II in lines 18a and 18b.
Step 4
List in Part III other business properties—in accordance with Sections 1245, 1250, 1252, 1254 and 1255 of the IRS code—that have changed in value during the tax year. Items to which this instruction applies include agricultural or horticultural structures, farmland or oil and gas lands.
Step 5
Enter the dollar amounts, as instructed in lines 20 through 24, for each property listed in Part III. Complete one of the sections between lines 25 and 29, depending on the section of the IRS code in which your property type appears. The divisions in each section are listed in the detailed instructions provided with Form 4797, but they may also be found on the code look-up on the IRS website.
Step 6
Part IV of Form 4797 should be completed when the business use of listed property drops below 50% or you have Section 179 expense recapture to report.
Step 7
Submit Form 4797 with your business tax return.
Tip
If you are in doubt where to enter the sale of your business property, check out the chart on page one of the IRS Form 4797 Instructions.