You hear a lot of talk about the "Average American Family." How many members does it have, where do they live, what do they eat? All of these are popular topics. But the primary figure bandied about is the income of an average American family. This number can vary greatly, depending on the parameters used to manipulate the data.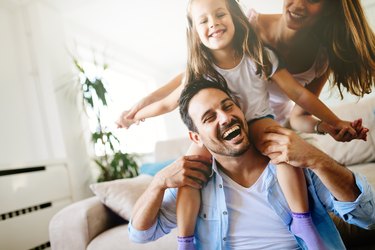 What is an Average American Family?
According to the U.S. Census, a family is a group of two or more people who are related by birth, adoption or marriage. In 2017, of the roughly 82 million families in the United States, the average family had 3.14 members. The number of members in a family varies widely by state. For example, Hawaii has an average family size of 3.63, while North Dakota's average was much lower at 2.98.
The Average Income of an American Family
The latest American Community Survey completed by the U.S. Census Bureau shows that the average income for an American family was $57,617 in 2016. This is an increase from $56,277 in 2015. The annual survey uses an average family size of three for its computations (because 3.14 is the average family size).
Averages Across Geographic Spectrums
The average income of an American family varies enormously depending on certain factors. For example, the average income for a family in Maryland was $78,945, while in Mississippi, the average was $41,754. The median income (the income that is in the exact middle in a numerically-ordered list) was lower than the U.S. median in 28 states, higher in 19 states and in Vermont, Oregon, Nebraska and Washington, DC, income equaled the national median. There was also a variation across the largest metropolitan areas. The San Francisco-Oakland-Hayward, CA Metro area had a median income of $96,667, while the Tampa-St. Petersburg-Clearwater, FL Metro area's income was $51,115.
Averages Across Ethnicities and Age
Asian families had the highest median income at $80,720. Non-Hispanic white families had a median income of $63,155, Hispanic families had a median income of $48,882, and black families' median incomes were $38,555. Households that were led by persons between the ages of 45 and 64 had the highest median income of $69,822. Households led by a person between 25-44 had a median income of $62,815, those 65 years old and older had a median of $42,113, and those households led by someone under 25 had a median income of $30,524.