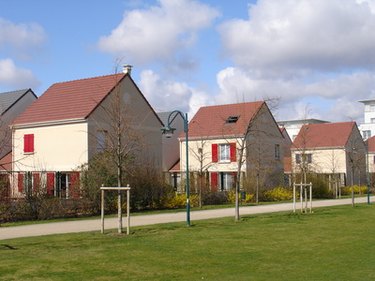 Purchasing your first home can be very confusing. An alternative to buying it through a standard mortgage from a lender is to consider using a land contract. This method of home finance is usually available through the current homeowner or builder. Purchasing a house this way allows more flexibility in regard to the down payment and other terms of the contract.
Step 1
Review a sample sales contract to help you better understand the terms of a land contract. The deed for the property will remain in the seller's name until the seller has received a predetermined amount of money. Land contracts are available online and can be printed for your reference.
Step 2
Choose the home you want to purchase. You can find many land contracts available by checking with a Realtor, local builders and for sale by owner newspaper and Internet advertisements. Some real estate advertisements will include the acceptable terms of purchase such as owner financing or the willingness of the seller to enter into a land contract.
Step 3
Discuss the terms of payment with the seller. Land contracts usually require a down payment. The down payment may be less than what is required by a lending institution.
Step 4
Execute the sales contract. Be sure to be specific regarding the terms of the contract. List the exact down payment offered and the payment plan. The payment plan would include how much per month you will be paying the seller and when the deed transfer will occur. With a land contract, the seller will hold the deed to the property until a specified amount is paid or until the house is completely paid off, depending on the written terms of the contract.
Step 5
Review the current tax credit for first-time and existing homeowners. The IRS has expanded the tax credit, and a land contract may qualify you for a tax refund or tax liability reduction.
Tip
Working with a Realtor will save time in your search for a home available through a land contract.
Many sellers advertise their willingness to accept a land contract in the local newspaper.
Warning
Always use a real estate lawyer or title company to review your land contract and execute the proper paperwork.