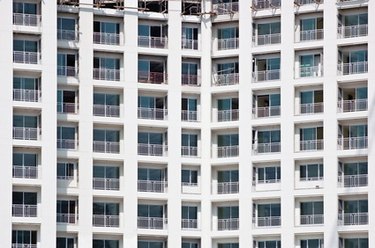 To sell any piece of real estate quickly the seller needs to ensure that the property is brought to the attention of willing buyers who are in the market to buy now. Whether the condo is listed with a real estate broker or you are selling it yourself, if you want it sold quickly you need to take an active role in the process.
Step 1
Visit other available condos in your complex. Compare the condition and location of these to yours. This information will help you determine a list price for your condo.
Step 2
Price your condo five percent less than the condo most comparable to yours both in condition and location within the complex.
Step 3
Make any needed repairs and cosmetic fixes prior to placing the condo on the market. If you lack the time for such work, price the home accordingly and make it known to agents and buyers that you have done so. Be aware that some work, such as termite damage, is required by law to be performed prior to the home closing escrow. Laws vary by state, so check with your state board of real estate to learn the requirements.
Step 4
Market the condo. Take clear photos of the condo's best features and post them online at various for-sale-by-owner websites. Create flyers that feature these photos as well as several photos of the complex and leave them with your neighbors. Often, neighbors know someone who wants to live in their building.
Step 5
Deliver flyers to real estate offices in your area. Offer a bonus to the real estate agent that brings in the buyer. Sometimes an extra one or two thousand dollars can be incentive enough for the agents to keep your condo on the top of the list to show to prospective buyers.
Step 6
Be ready to make concessions to the buyer to sweeten the deal. Offer to pay her closing costs or pay for any needed repairs or desired upgrades.
Step 7
Order copies of the required Homeowner's Association (HOA) documents. The requirements vary by state but generally include copies of the CC&Rs (Covenants, Conditions and Restrictions), minutes of association meetings for the past two years, association budget, notices of assessments, and any litigation-related paperwork. Your HOA can provide you with a list of which documents are required and the fee for obtaining copies.