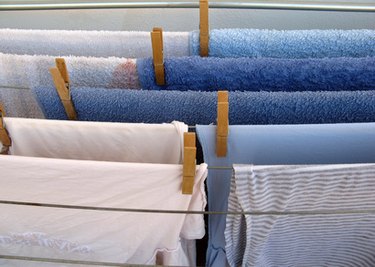 Anyone who has ever washed laundry on a frequent basis knows how quickly laundry detergent can run out. Constantly buying laundry detergent can rapidly cut into your monthly expenses. Fortunately, there are many ways to save on detergent. One such way is with the use of printable coupons. Printable Tide coupons can significantly cut down the cost of laundry detergent. You might be surprised by how many resources are available for printable detergent coupons.
Step 1
Log on to the main Web site for Tide and click on the "Special Offers" tab. You will be taken to the coupons and specials page, where you can find printable detergent coupons as well as valuable coupons for other Tide products. Check back with the Tide Web site frequently to view new and updated coupon offers.
Step 2
Browse around for printable Tide coupons on Web sites that specialize in free coupons. Two examples of such Web sites include Coupons and CoolSavings. Once you are logged on to an online coupon provider, simply select the proper category and view the available coupons. Consider checking out at least three or four different coupon Web sites, because coupon availability and value will vary.
Step 3
Use online auctions. Direct your Web browser to an auction Web site such as eBay or Sell and conduct a search for printable Tide coupons. Many eBay sellers list such coupons for inexpensive prices. Once you have completed your purchase, simply wait for the coupons to be sent to your e-mail, print them, and redeem them at your local grocery store.
Step 4
Look on Tide containers. Visit the laundry detergent section of a grocery store. Examine each Tide container for any online coupon offers. Often companies attach coupon codes to their products; these can be redeemed online for printable coupons.
Step 5
Log on to an image Web site, such as Google Images or Yahoo! Images, and enter "Tide detergent coupons" in the search bar. Your query will return images displaying printable Tide coupons as well as many other detergent coupons. This is an unconventional yet effective way to find printable coupons for a variety of different products.
Step 6
Send Tide a quick e-mail requesting printable detergent coupons. If any such coupons are currently available, the company will send them to you in a reply e-mail.
Tip
Always be sure to check the expiration date of your coupons.