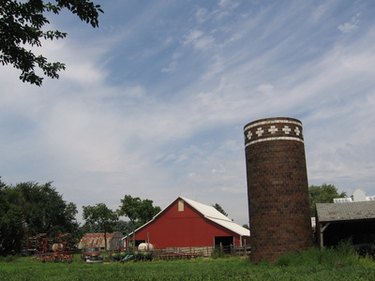 Capital gains tax is levied on the sale of property employed in a productive use as an investment or for business purposes. Farm land is typically used for business purposes and as such, will be subjected to capital gains tax upon sale. There are a couple of ways to minimize the capital gains tax burden when you sell the farm.
Step 1
Negotiate with the buyer, making sure that you include a contingency in the contract requiring the buyer to cooperate with you should you elect to pursue a 1031 exchange.
Step 2
Split your sales contract into two separate parts. One contract is to address the sale of your primary residence and a second contract to address the sale of the associated farm land or acreage.
Step 3
Exercise the capital gains tax exemption on any residence that has served as your primary residence for two out of the last five years. The amount of the exemption is $250,000 for an individual and $500,000 for a couple.
As a result, selling the private residence separately from the farmed acreage allows you to completely eliminate the capital gains tax implications on $250,000 or $500,000 of the total sales price.
Step 4
Initiate a 1031 exchange on the portion of the sales proceeds involving the productive acreage.
Any property used for a productive use in a business or as an investment qualifies for 1031 treatment. By separating the acreage from the private residence, all of the land can be classified as having been held for productive use in a business and as such will qualify for tax deferral under a 1031 exchange.
Tip
It is important that whenever you are involved in a complicated transaction like this that you consult with competent tax professionals such as attorneys and accountants.
Warning
To be clear, the capital gains tax exemption on the primary residence actually reduces/eliminates your capital gains tax on that portion of the transaction. However, the 1031 exchange on the farm land only defers the tax liability until you sell the property you acquire through the 1031 exchange.
Things You'll Need
Farm land

Buyer

Accountant