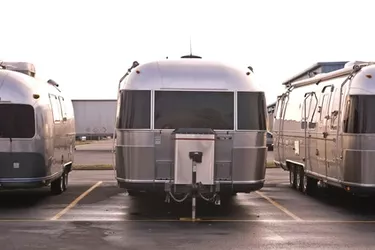 Mobile homes that are considered real property are called manufactured homes. The title documents for these homes are found at the Registry of Deeds in your Florida town. However, if a mobile home is actually mobile, the title will be held either by an auto lender or at the Florida Registry of Motor Vehicles. You must first determine the status of the mobile home before you can verify the title.
Registry of Deeds, Real Property
Step 1
Find out if the mobile home is inhabitable. In Florida, this means that a property inspection confirms the home as real estate. The inspection must find a viable foundation (which can be merely solid ground). It also must be devoid of its axles and wheels.
Step 2
Visit the Registry of Deeds for the Florida county in which the mobile home is located. You must have some of the following information: the Florida property address, the homeowner names or the name of the mortgage company who holds a loan secured with the mobile home.
Step 3
Speak with an abstractor at the Registry of Deeds. You may be able to use an online database at the Registry. Some, but not all, Florida Registries have electronically registered the town deeds. An abstractor can use the information you culled together to search the physical land deeds.
Step 4
Comb through the deeds, liens, mortgages and any other recorded documents that the abstractor finds. You may find Florida Department of Revenue tax liens. A title is only verified once you find the most updated deeds. For example, if a quitclaim deed was filed after the home was purchased, the ownership on title will reflect the quitclaim deed, not the original purchase deed (warranty deed).
Registry of Motor Vehicles
Step 1
Check the mobile home. In order to qualify as personal property and not real property in Florida, the mobile home must still have the axles and wheels attached.
Step 2
Find the VIN (Vehicle Identification Number). This is a unique series of numbers and letters that is used to track the mobile home's purchase history. This number will likely be on the vehicle's registration and insurance card. (You can also look up a Florida VIN number at the Registry listed in Resources.)
Step 3
Bring the following information to the Registry of Motor Vehicles: the mobile home VIN, registration, insurance information and original loan contract (if applicable). Also bring two forms of identification.
Step 4
Speak with a RMV representative. Ask to see all liens for the particular motor home. Once you verify that you own the mobile home (with the documents you bring), the representative can pull up all liens outstanding on the title. The original title will be held either at the RMV or at the auto lender (if you are still financing the vehicle).
Things You'll Need
Vehicle Identification Number

Registration

Insurance card