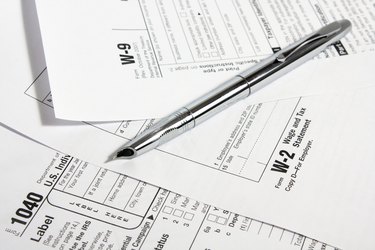 Form W-4 lets you claim allowances that lower your taxable wages and increase your take-home pay. A dependent is a type of allowance you can take on the form. You can claim your children, parents, relatives and certain people who are not related to you as dependents if you provide more than half of their support. However, you cannot claim your spouse as a dependent.
Step 1
Use the Internal Revenue Service testing tool to determine who you can claim as a dependent. A qualifying child must be related to you, whether a biological or adopted child or stepchild. She must be younger than 19 years old, or 24 if she's attending school; a U.S. citizen or resident; living with you; and not supporting herself. A qualifying relative must pass the relationship or household member test and also meet gross income and support guidelines. For the gross income test, the dependent's income cannot exceed a specific amount, which is $3,950 as of the time of publication. For the support test, the dependent must have received more than half of her support from you.
Step 2
Claim one allowance for yourself on line A of the W-4's Personal Allowance Worksheet if no one else can claim you as a dependent on his return. For example, if you're employed and live with your parents, who will claim you as a dependent on their joint return, do not take this allowance.
Step 3
State your total dependents, excluding yourself and your spouse, on line D. This line is for the number of people for whom you provide half the support.
Step 4
Enter "1" on line E if you intend to claim dependent or child-care expenses as a credit on your return. As of the time of publication, you must have a minimum of $2,000 in child or dependent care expenses, excluding child support payments.
Step 5
Put your allowances for child tax credit on line F if you will claim that credit on your return. Your total allowances for this line depend on your annual income and number of eligible children, as stated on the W-4.
Step 6
Write the total of lines A through G on line H. Then fill out the Employee's Withholding Allowance Certificate and put the total allowances, as shown on line H, on line 5. If you are changing your filing status as well, complete line 3 of the withholding allowance certificate. Give your employer the certificate within the required payroll processing time frame.
Tip
If you claim a dependent on your W-4, that person must qualify as such for you to get that credit at tax time.