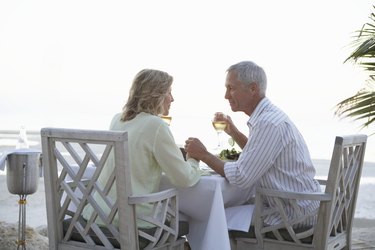 "Best" is a subjective term -- what's right for one person might not be perfect for another. If you're looking to retire somewhere that's tax-friendly, however, the issue is more black and white. Some states have no income tax, while others spare certain types of retirement income from taxation. After you use this criteria to whittle your list of perfect retirement locations down to a handful, tiebreaker considerations come into play, such as how much you must spend to live in each spot.
Florida
Florida has long been known as a retirement wonderland. It's one of seven states with no income tax, so whether you're funding your retirement through a private, federal or state pension, retirement investments or Social Security, you won't have to share your money with the state. Florida's sales tax is a little higher than other state's, however. It's 6 percent at the state level and local taxes can tack on an additional 1.5 percent. Florida has no inheritance or estate tax. The climate is warm and overall, the state's economy is about average. Forbes lists Cape Coral, Florida, among its top 10 places to retire.
Texas
Forbes also likes Austin and Abilene, Texas, naming Abilene the best retirement city in the U.S. in 2014. Both areas boast nice weather and a healthy economy. The cost of living in Abilene is 13 percent below the national average so your retirement dollars stretch farther. There's no income tax in Texas, so your retirement income is safe, no matter what its source. But U.S. News & World Report says that property taxes can be a little steep in Texas and the state's sales tax is on the high side at 6.25 percent.
South Dakota
If you don't mind cold weather, a couple of northern climes offer some nice tax breaks in retirement as well. South Dakota has no income tax and its sales tax is only 4 percent. There's no inheritance or estate tax so the fruits of your lifetime's labors can pass to your beneficiaries without the state taking a bite. Property taxes are a little high, but South Dakota offers reductions for properties assessed at $182,358 or less to low-income homeowners 65 and older. Bankrate indicates that South Dakota has the third-lowest overall tax burden in the United States. Its health care system is topnotch and the crime rate is low.
Wyoming
Bankrate names Wyoming as the best state in which to retire in 2015. The cost of living and crime rate are low, and Wyoming doesn't tax income. The state sales tax is only 4 percent. There's no inheritance or estate tax. According to Kiplinger, low-income seniors are eligible for refunds of a portion of the property and sales taxes they pay, as well as utilities.
Honorable Mentions
• The other states with no income tax are Alaska, Nevada and Washington. • Tennessee and New Hampshire only tax income derived from interest or dividends, so if your income doesn't come from these sources, these may be good retirement locations. • Mississippi has an income tax, but it doesn't tax pensions, annuities, most retirement accounts or Social Security. It makes special provisions for military pensions. It has some of the lowest property taxes in the United States, but its sales tax is high at 7 percent. • Alaska pays you to live there. Permanent residents receive dividends each year from the oil wealth savings account -- $1,884 per person in 2014. Senior citizens are exempt from property taxes at the municipal level on the first $150,000 of assessed value of their homes.
• Military.com offers a breakdown of how different states treat retirement pay. In most jurisdictions, military retirement pay is taxable. But 30 states exempt disability retirement pay, and Oregon exempts some federal pensions from taxation.