A business bank account works in much the same way as an individial account, but you can make financial transactions under your official business name. You'll also need to open a business account for tax purposes, since Internal Revenue Service rules require that you keep personal bank accounts separate from business bank accounts. Banks, credit unions and other financial institutions provide a range of accounts for businesses of all shapes and sizes, from simple checking accounts to ones that handle complex investments.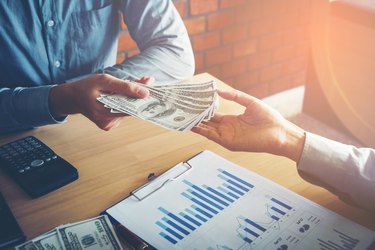 Business Checking Account
With a checking account, your business can deposit and withdraw cash from a bank through ATM cards, electronic debit cards or checks. Some business checking accounts require a minimal deposit before establishing a new account while others require only proof of business and identification. Checking accounts provide a wide range of financial services at highly competent rates. Banks allow various types of checking accounts, depending on the financial needs of a business and the legal requirements of a bank. Some banks, for instance, allow an unlimited amount of checks to be written for cash withdrawal per month. Others restrict the number of checks a business can write. Banks also have different minimum monthly checking account balance requirements, so do shop around before you decide.
Business Savings Account
A savings account is an interest-bearing account. With this type of account, you're essentially letting the bank manage and invest your money, and in return you get a constant stream of interst. Savings accounts are not linked with checkbooks and debit cards. Instead, you'll withdraw cash through an ATM card or a personal visit to the bank itself. Some business savings accounts require a minimum deposit to be maintained at all times, and there are tight regulations about what banks can and cannot do with your money. Bank statements and passbooks list all monthly business savings account transactions.
Business Certificate of Deposit
A certificate of deposit is a time-bound instrument of debt, issued by a bank or other financial institution. With a CD account, you're essentially putting aside a chunk of money for a specific period of time, usually one month to five years, in return for a fixed rate of interest. A certificate of deposit bears a maturity date, which determines the interest rate accrued upon maturity. The Federal Deposit Insurance Corporation insures and guarantees the safety of all bank-issued CDs. Not all banks, however, are insured by the FDIC.Typically uninsured banks provide higher interest rates but less security on CDs than an insured bank. Businesses have the option of looking into various types of CDs, including callable CDs, brokered CDs, liquid CDs, variable rate CDs, add-on CDs and zero-coupon CDs.