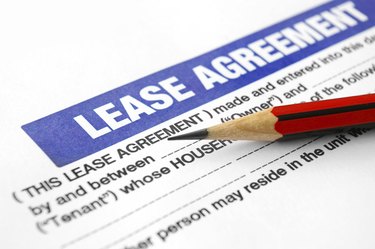 If you've received an eviction notice because you are late on your rent, you may have several options for staying in your home, at least temporarily. Getting legal advice, as well as communicating with your landlord, can stall or stop an eviction. This gives you time to recover financially and either keep your home or find a new one without an eviction on your record.
Contact Your Landlord or Property Manager
Landlord-tenant laws require landlords to send out eviction notices as the first step in terminating a non-paying tenant's lease. Receiving an eviction notice means that your landlord is protecting his rights, but he still may be willing to work with you. Contact him, explain your financial situation and try to negotiate a payment plan or rent reduction.
If you aren't able to stay in your home, you may still have alternatives to eviction. Your landlord may be willing to drop the court case if you voluntarily move out or assist her in finding a new tenant. To protect yourself, get your agreement in writing and ask her to sign it.
In some areas, local courts offer landlord-tenant mediation services. Mediators work with landlords and tenants to resolve issues without going before a judge. If your landlord is reluctant to work with you directly, he may be willing to resolve your case with a mediator.
Get Legal Advice
Talking to a lawyer can give you a better idea of what your rights are and what your next steps should be. A lawyer also can review your case and let you know if you have a chance of defending yourself against the eviction.
If you can't afford a lawyer, contact your local Legal Aid Society. Legal aid lawyers can advise on strategies for preventing or stalling an eviction and may represent you in court. Another option is to pay for a consultation with a lawyer who can help you prepare to represent yourself in court.
Ask Charities and Social Service Agencies for Help
If you are struggling to make a rent payment, contact local charities and social service agencies. Many offer emergency rent assistance to people in need.
Here are some ideas for getting financial assistance:
The United Way sponsors the [2-1-1 service](http://www.211.org/) that connects individuals with social service support and help. This service does not operate in all communities.

Some [Salvation Army Community Centers](http://www.salvationarmyusa.org/) provide rental assistance.

Talk to a U.S. Department of Housing and Urban Development approved housing counselor [housing counselor](http://portal.hud.gov/hudportal/HUD?src=/i_want_to/talk_to_a_housing_counselor) about your situation.

If you are a veteran, the VA operates the [National Call Center for Homeless Veterans hotline](http://www.va.gov/homeless/nationalcallcenter.asp), 877-424-3838.

Some states and cities operate hotlines for the homeless and those in danger of losing their homes. HUD maintains an online list of [state services](http://portal.hud.gov/hudportal/HUD?src=/states).

Many public libraries maintain a list of public and private social service programs at their reference or information desk. Call or visit your local library to find out what is available in your community.
Go to Court
Even if you are unable to pay your back rent by the time your court date arrives, attend your hearing. Here's why:
You and your lawyer, if you have one, may be able to show the judge that the landlord did not follow proper procedures while filing the eviction. The judge may rule against the landlord or dismiss the case.

Your landlord may not show up, triggering a dismissal. While your landlord can refile, you'll have more time to find a new home.

In some states, such as Washington, the law allows you to reinstate your lease if you pay your back rent, and court costs, to the court.