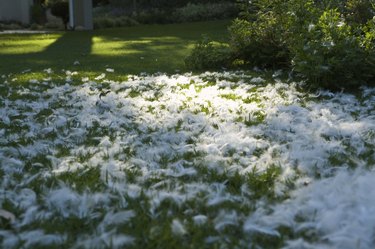 The U.S. does not maintain at this time a centralized database of land sales and property ownership, so the responsibility for reporting a land sale to the proper authorities falls to parties involved in the sale. While it is not absolutely necessary to have the property transaction recorded on a deed, it is important for liability responsibility to have an updated ownership title on record, and most land sales will start the reporting process with that step.
Step 1
Call your local government office to find out who is the proper authority for registration of deeds. Most counties or parishes will have a county recorder or assessor's office that handles recording the transfer of deeds. The sales information may be used to update the property tax appraisal for the land, and the information on where to send appraisal notices and property tax information. It is important for the seller to have the property transfer on record to avoid liability for future property taxes.
Step 2
Take the land sales documents to the appropriate office for filing. The documents must be legible, and properly authorized before they will be processed and recorded. There will likely be recording fees, and fees to make copies for your records, but it is important to have copies for tax filing purposes. Most often the real estate closer will handle this step.
Step 3
Report the land sale proceeds using the IRS Form 1099-S. This form is usually sent in by the real estate broker handling the sale. If the land sales transaction is not handled through a broker or an attorney, the seller will need to fill out the form and submit it. You can obtain the form by visiting the IRS website, www.IRS.gov, and the form will be under the Forms and Publications link. If you are not able to print, you can call (800) TAX-FORM and have the form mailed to you.